A dream, some imagination and a few knitting needles
Posted: Monday 07 December 2020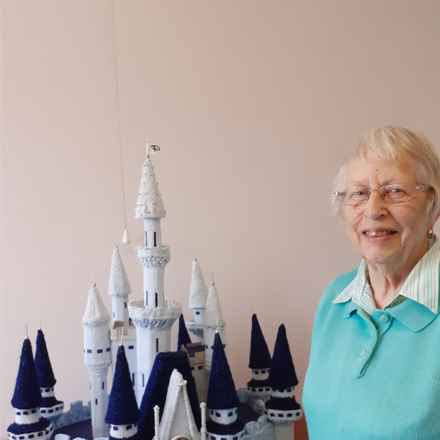 According to Walt Disney 'If you can dream it, you can do it'.
And, that has certainly been the case for Pat Laye, who wanted to knit her very own version of the Sleeping Beauty Castle.
But, without a pattern to follow Pat had to rely on her own imagination – and some left over wool.
Pat, who has wet age-related macular degeneration (AMD), took five months to complete the castle.
Pat, aged 86, has been knitting since she was five years old and said she particularly enjoyed stretching her creativity with challenging projects. She said: "My mum taught me how to knit when I was that age. I was five when the war started, and you could buy bits of wool to knit jumpers, so I used to get the odds and ends, and she used to teach me. It's just something I've always done, and my boys had all their own knitted clothes."
Pat said her inspiration came from many sources, including a TV advert which saw a Disney castle made of cake.
"It was just a case of knitting on three needles, and hoping for the best." She said. "I didn't have any pattern, I just did it, and carried on just trying it. I've got a very vivid imagination and I like fiddling."
Pat was first diagnosed with macular degeneration in her right eye about five years ago, and is now starting to have problems with her left eye. She initially noticed that her Venetian blinds looked bent and curved. After visiting a couple of her local high-street opticians, she was soon referred to hospital where she started having injections.
Despite the impact of macular disease on her life, Pat remains very active in other ways and has a very positive outlook. She said: "I exercise twice a day and, although I cannot walk as far as I did, I just try and keep doing as much as I can."
She added: "There must be a cure somewhere, somehow. I just hope that any funds can help find a cure. That's the main thing, to me."
Pat had planned to auction off the castle at a local event earlier this year, to raise funds for the Macular Society. However, after the event was cancelled due to the pandemic Pat's friend didn't want the fundraising opportunity to go to waste, so she set up a JustGiving page. If you'd like to donate towards Pat's efforts visit: https://www.justgiving.com/fundraising/nicky-jerrome.