New treatment for wet AMD approved for NHS patients
Posted: Wednesday 16 December 2020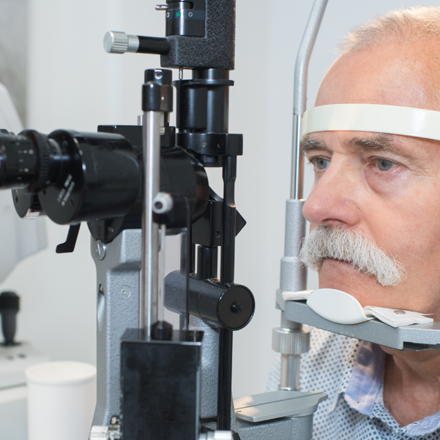 A new treatment for wet age-related macular degeneration (AMD), which could see patients receiving as few as four injections a year, has been approved for use in England and Wales.
Brolucizumab (Beovu), which was approved for use in Scotland earlier this year, has today been approved by the National Institute for Health and Care Excellence (NICE) on the NHS.
The new drug, which has been brought to market by Novartis, could see patients going as much as 12 weeks between eye injections.
The drug could help minimise the treatment burden for many patients, as more than 50% of patients in clinical trials were able to maintain vision on 12-weekly dosing intervals.
NICE's recommendation was based on findings from the Phase III HAWK and HARRIER clinical trials, which showed that in less than a year almost a third of patients were able to see at least 15 more letters in standard eye tests and vision gain was seen as early as four weeks into the trial, with progress sustained for two years.
Cathy Yelf, chief executive of the Macular Society, said: "Eye injections are a source of fear and anxiety for people with wet AMD and in these exceptional times, they are more anxious than ever about hospital visits.
"We are delighted that a new treatment option, which has the potential to maintain vision and help minimise the number of hospital visits for people living with this devastating condition, is now available in England and Wales."
Robin Hamilton, consultant ophthalmic surgeon at Moorfields Eye Hospital and UK chief Investigator for the HARRIER study, said: "Wet AMD can progress rapidly and cause significant visual loss in as little as 3 months. Wet AMD can be managed with effective, consistent treatment and regular monitoring of fluid in the back of the eye,"
"Today's recommendation offers patients access to a treatment option that has the potential to minimise the treatment burden and hospital visits, while improving their vision and slowing down the progression of their wet AMD. This should give them more time to do the things that matter most to them."
Chinmay Bhatt, managing director UK, Ireland & Nordics for Novartis Pharmaceuticals, added: "This decision not only means people with wet AMD have access to a treatment option that has the potential to maintain their vision, but also offers to minimise treatment burden and hospital visits.
"This is more vital than ever to help relieve pressure on healthcare systems. We are working closely with the NHS to ensure eligible patients can start benefiting from brolucizumab as soon as possible."
To stay up to date with the latest in treatments and research for macular disease, sign up for six months' free membership.