'My thoughts were racing trying to figure out what this could be'
Posted: Monday 16 November 2020 at 10:46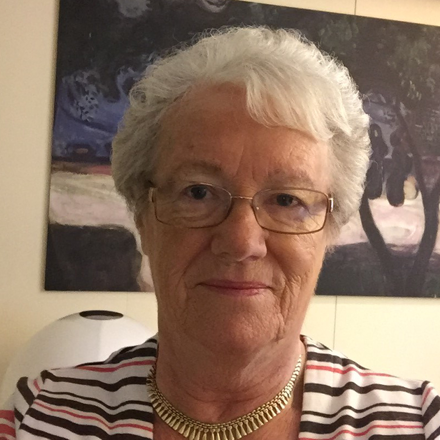 After living with macular disease for 12 years and having seen her own mother experience Charles Bonnet Syndrome, Doris knew all about visual hallucinations caused by sight loss.  
But, when she started seeing things that weren't there, she became frightened and didn't consider that the cause could be Charles Bonnet Syndrome.
She started experiencing symptoms after noticing something was not quite right in her bathroom.
She said: "In November last year, I went into the bathroom and saw that my white toilet had a blue pattern inside it.
"Initially I thought I hadn't washed the cleaning fluid away properly but then I saw the same pattern was in the bath and on the walls too. As the weeks and months went by the pale surfaces all over my house started to go blue. It was all a rather startling experience to be honest.
"I didn't even think of it being Charles Bonnet at the time. With that I thought you just saw figures. My mum also had Charles Bonnet and used to see rabbits running around, nothing like the patterns I was seeing. My thoughts were racing trying to figure out what this could be"
Doris had regular eye appointments and feared this was the beginning of a retinal detachment, until Charles Bonnet was first suggested. She then contacted the Macular Society
"Truthfully, I just wasn't convinced it was Charles Bonnet until I called the Macular Society. Before then I was wondering whether something was going wrong with my brain. These patterns just weren't what I associated with Charles Bonnet."
Doris was invited to join the Society's group telephone counselling service for people who live with Charles Bonnet Syndrome and was reassured by other people's experiences.
"I cannot thank the Society enough for the wonderful support they have given me over the last three weeks," she said. "The calls I had made me realise I am not alone and so long as the Macular Society is there I never will be."
Since joining the group calls Doris said she has been feeling less anxious.
"Since I've been joining the calls I've not even giving the Charles Bonnet a thought. I'm so reassured by the people speaking and hearing their experiences. Because I know what it is, I'm not worried about it. My reassurance has all been down to the Macular Society."
If you think you might have Charles Bonnet Syndrome and would like to know more about the Society's group counselling sessions contact the Society on 0300 3030 111.