Bridging the miles with befriending
Posted: Friday 30 October 2020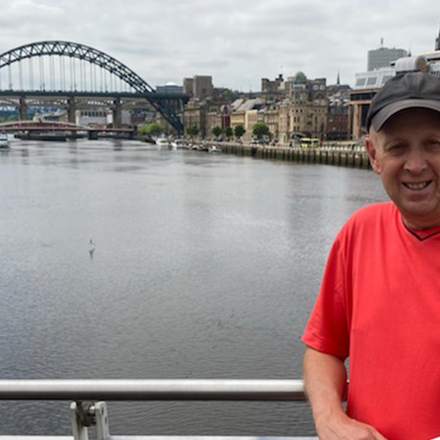 "We don't only talk about sight loss," says Macular Society befriender Peter Bennetts. "It might be what's in the news, politics, or just what I've passed on my walk along the Tyne that morning."
As a befriender, Peter makes regular calls to people who are struggling with the effects of macular disease – whether they're anxious about travelling to hospital for an injection, or just need a friendly ear. "My first befriendee had counselling through the Macular Society, and he found it a great comfort to know that after it ended, he could still talk to someone who understood," Peter says.
It's not only isolated people who sign up for befriending, he says: "You might have sympathetic friends and family, but what's missing is someone with that lived experience, who knows what you're going through."
Although his first befriendee lives hundreds of miles away, near Bristol, they have plenty to talk about. "His life is completely different to mine, all my other contacts are in the north-east, but we have a similar view on life, and of current events. We speak confidentially for an hour each week, and the time just flies."
Peter was diagnosed with Stargardt disease 50 years ago, and has been an active member of the Society for many years. In 2007 he abseiled off the Tyne Bridge, raising £12,000, and the following year he upstaged Professor Pete Coffey at the Macular Society Conference by persuading 200 people to get up and sing "Climb, Climb Up Sunshine Mountain". But it wasn't until earlier this year that he became a befriender. "I'd just relaunched the North East Working Age group when the country went into lockdown," he says, "and I heard that the Society needed more befrienders. It seemed like a really worthwhile thing to do."
And as someone who has trained others in effective listening, does Peter have any advice for potential befrienders? "I try and listen for what's behind the words. Listening to your tone, and what you're not talking about, could let me know that you're not feeling quite yourself. Some people need a bit more drawing out than others, or for me to lead the conversation, but I keep checking that they're getting what they need from the calls, and covering the things that they want to talk about."
At times like the present, when so many of our normal activities aren't possible, befriending has been a powerful way to take control. Peter says: "It does make you feel good. Being able to help others builds your self-esteem and your confidence. It's a pleasure."
We are incredibly grateful to all our befrienders who play an enormously important role in easing people's feelings of loneliness and isolation, helping to rebuild confidence and independence, and simply being a sympathetic, friendly and understanding ear to talk to on a regular basis. We aim to match users of the service with befrienders who have common interests and experiences and who understand exactly what it is like to live with macular disease.
The positive impact of befrienders from all organisations is also being recognised at a national level, when, from 1 to 7 November, Befriending Networks is running the annual Befriending Week. This year's focus is on raising awareness of the damage that loneliness and isolation can do to health and wellbeing, as well as celebrating the hugely positive impact of everything #BefriendingIs.
For more information about the Macular Society's befriending service or to volunteer, please call 0300 3030 111 or visit macularsociety.org/telephone-befriending