New technology aims to improve patient experience
Posted: Friday 16 October 2020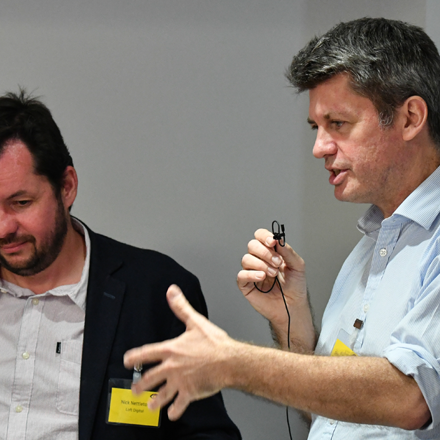 Researchers working on a new application, which could help improve the patient experience for people with rare eye disease, will update on the project at our Working Age and Young People's Virtual Clinic later this month.
The monthly webinars, which have usually put the spotlight on a specific type of macular disease, will this month switch their focus to look at the MyEyeSite project.
The project aims to support virtual healthcare by providing a better way for patients with rare eye disease to share their specialist data with their doctors.
MyEyeSite is developing a technology, which will allow patients to collect, manage and share their own health data with their doctor, with an aim of improving health outcomes, providing a more efficient health service and accelerate scientific research.
In 2019 Andrew Webster and Nick Nettleton presented at the Society's Annual Conference at the Inherited Retinal Disease sessions about the project.
The pair are now looking for patients to help use the technology they have developed.
If you're interested in finding out more about the project and how you can get involved, register for the event on Thursday 29 October at 6.30pm.
If you would like any further information please contact Colin Daniels Macular Society Working Age and Young Peoples' Service Manager at colin.daniels@macularsociety.org