Leading researcher is optimistic about progress into treatments for dry AMD
Posted: Thursday 17 September 2020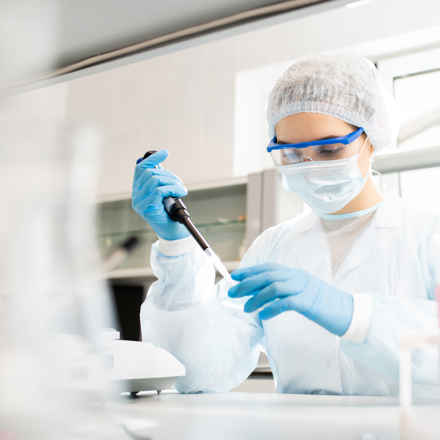 "Dry AMD trials are a really active area of clinical research, so I feel quite optimistic that we have a lot of things in the pipeline that could well be promising prospects for the future".
Last week Dr Clare Bailey, clinical director of the Research and Treatment unit at Bristol Eye Hospital, joined us at our Virtual Clinic event, updating on all the latest in treatments and research.
A few highlights from her talk included updates on trials ongoing into anti-inflammatory treatments as well as progress being made in gene therapy and stem cells.
Currently, no approved treatments exist for dry AMD, or for the geographic atrophy (GA) that causes the related vision loss.
At the Virtual Clinic Dr Bailey revealed that a phase three trial looking at monthly intravitreal injections for patients with dry AMD, known as the Zimura trial, has seen a significant reduction in GA growth over 12 months. Two phase three trials are required before drugs can apply for approval from the Food and Drugs Administration (FDA) and NICE, but if this second trial is as successful as the first, it could be approved for use in the NHS.
As well as updating on several other studies ongoing at Bristol Eye Hospital Dr Bailey discussed stem cell therapy and the work going on across the world and how far away we are from a possible treatment.
She said: "I think it's fair to say there is a great deal of interest in stem cell treatment it is under investigation in several sites around the world.
She added: "Studies to date have shown that stem cells can be injected or added underneath the retina and survive and that don't appear to be doing anything unusual or worrying.
"But, it has to be said that we have yet to show in bigger studies that the efficacy is there and that they work to make the vision better for people and that may take many more years to prove that they can be safe and effective. It's work in progress, I think there's lots and lots of progress but it is a slow business because it is a complicated thing to try and do but there is certainly lots of work in this field."
Watch Dr Bailey's Dry AMD and the Potential For Treatments.
The Virtual Clinic events will take place on the second Tuesday of every month at 7pm. The next event is Charles Bonnet Syndrome and will take place on Tuesday 6 October.