"Without the support group I would have become very depressed"
Posted: Monday 23 August 2021 at 13:21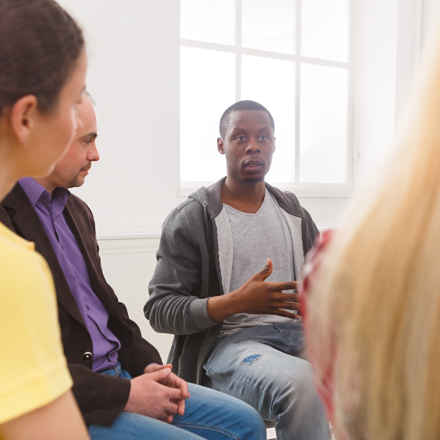 The National Lottery Community Fund in Wales has recently granted the Macular Society £300,000 to allow the charity to continue to support over 2,500 people losing their sight.
The five-year grant will be used to further strengthen the services provided for communities across Wales, such as telephone befriending and support groups for anyone affected by macular disease.
The funds will also enable the Society to provide additional services, which will be available to people across the country. These will include professional counselling, as well as tailored support for working age and young people living with macular disease.
Iona Anderson, 82, has AMD and joined one of the Society's 400 support groups just before the pandemic hit last year.
Iona is a member of the Harlech Macular Society support group which continued to hold meetings via teleconference throughout the pandemic.
"Being part of the support group has made a heck of a difference to me," she said. "Without it, I think I would have become very depressed. The group brings us all together, we talk to each other about our different experiences of sight loss, and share ideas of how we cope. But we're more than people with macular disease, thanks to the support group I've made a lot of new friends."
Iona continued: "The pandemic has been really awful for everyone but although we had to switch to monthly calls because of Covid-19, I am so glad that I have kept going with the group. It's really reassuring knowing that you're not on your own, there's someone on the end of the phone who understands what you're facing."
Since the pandemic first started, demand for the charity's services surged with a 65% increase in calls to their Advice and Information line in the early days of lockdown, and a 40% increase in demand for its telephone befriending.
In response to the crisis, the Society introduced a new range of online and telephone support services.
Maria Storesund, head of regions for the Macular Society, said: "This funding plays a crucial role in supporting people with macular disease in Wales at a time when they need our services more than ever before. We'd like to thank the National Lottery Community Fund, and all of the National Lottery players, for their ongoing support.
"Our support services are hugely in demand, and the pandemic has only further highlighted how isolating sight loss can be. Many of those affected by macular disease are older and vulnerable. It's critically important that we're here to provide practical and emotional support and connect them with others who understand what they are going through."
Andrew Owen Head of Funding at The National Lottery Community Fund in Wales added: "'National Lottery players raise £36 million each week for good causes throughout the UK, last year we funded over 8,000 projects across the UK to bring communities together, over 7,500 supporting health and well-being. The Macular Society project is an excellent example of how creatively groups have risen to the challenges thrown up by the Pandemic, they have found ways to safely support the people relying on them. I hope this grant will enable them to continue offering the support and advice so many people with this condition value."
The Macular Society is just one of the 74 communities which shared more than £3million (£3,300,305) across Wales this month.