Entertaining Winter Warmer calls return
Posted: Monday 20 December 2021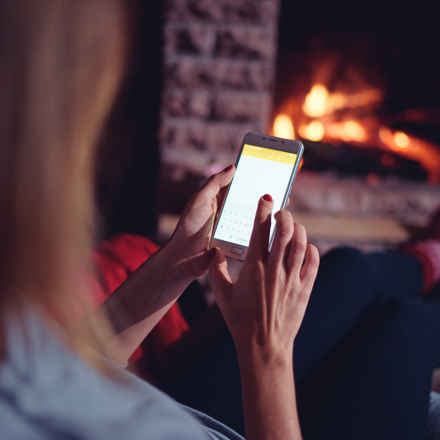 A series of entertaining evening calls, launched in lockdown 2020, have returned this year to provide comfort, friendship and entertainment during the long winter nights.
The Macular Society's popular Winter Warmer calls returned in November and run weekly into the New Year, with each hour-long call featuring light-hearted discussions and entertainment from people from many walks of life.
There have been many storytellers, singers, historians, and even an audio pantomime.
Senior Regional Manager Adele Francis, who helps to host the Winter Warmer calls, said: "I'm delighted the Winter Warmer calls have returned for 2021/22 as they have proved so beneficial to people who are otherwise isolated and alone. They are always so engaging, and there are many interesting questions for our guests, who have loved taking part.
"People have signed up for the entire series and we've had guest speakers and entertainers return from last year too, because they have enjoyed it so much. Everyone sings along or takes part in some way, so I look forward to them every week as well!
"There's a real feel-good feeling to be had and it's a really positive way to bring people together over the festive and winter period."
Former BBC Radio Leicester presenter Dave Andrews volunteered for Winter Warmers in 2020. He has already returned to be a guest speaker and is set for another talk as part of the series of events in February.
He said: "I'd been entertaining listeners as a presenter on local radio for many years. For people living on their own, it is a friend in the room. Radio training provided me with the skills to be able to present a colourful picture to listeners.
"I'd been involved in the station's coverage of the search for the remains of Richard III in the carpark in Leicester, and with an interest in history, this made the perfect subject for a talk. I hope the callers found it interesting to learn more about this controversial character.
"I enjoyed the lively conversation afterwards and the warm response left me inspired to do more. I've since delivered the same talk to some of the support groups and I'm looking forward to being a part of this year's programme. It's nice to think that my small contribution has made a difference."
Calls are hosted by a member of the Macular Society team at 6pm every Wednesday until the end of February 2022, excluding December 29.
The Winter Warmer Calls 2021/22 schedule – what's on:
22 December Dunoon Players: Short pantomime
29 December – No call
5 January RNLI Anglesey
12 January Bob Ronaldson: Trials and tribulations of a driving instructor
19 January Pentabus Theatre: Dramatic performance or reading
26 January Nick Thomas: Representing my country at VI sport
2 February Dave Andrews: Richard III
9 February Glenis Williams: Love in the Black Country
16 February Clare Murphy, professional storyteller
23 February Katriona Taylor, singer-songwriter with Stargardt disease
For more information and to book your place, call the regional services team on 01264 560 259 or email winterwarmers@macular society.org
Please provide your name, contact details, and preferred booking date, and a member of the team will confirm your space.