Research trial continues into potential treatment for Stargardt
Posted: Wednesday 08 December 2021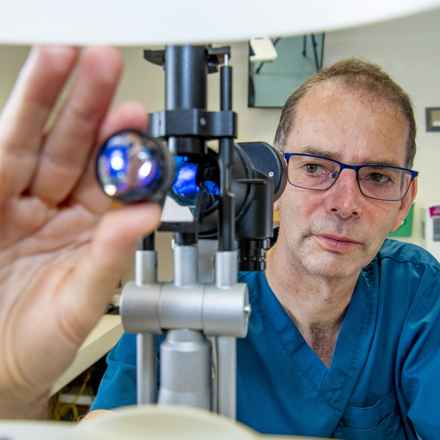 Professor Andrew Lotery has provided an update on the latest research into a potential treatment for Stargardt disease at our latest Virtual Clinic event.
The research is looking into whether a drug called Remofuscin could be an effective treatment for Stargardt disease, preventing sight loss caused by the condition.
A clinical trial is currently in the second phase, where tests are looking into how effective, if at all, the drug could be for those living with the condition.
The first phase of the European Union-funded project started in 2017 and was due to be completed in November 2021, however it has been extended by up to 18 months.
Professor Lotery of the University of Southampton, who has been working closely on the Remofuscin trial, said: "Results of this clinical trial will be available in another year, but I'm hopeful within a year to 18 months we will see what effect the drug has."
The drug Remofuscin contains Soraprazan, which has been shown to remove a material called lipofuscin, which builds up in the macula in Stargardt disease and damages the eye cells.
Professor Lotery said if the drug does work, the next step would be to hold a phase three study with a larger group of patients.
According to the European Commission's report into the trial, it is hoped the research "may demonstrate the possibility of removal of lipofuscin as a key pathogenic component of Stargardt disease." It adds its hopes for the drug to potentially "slow or stop disease progression or even improve the disease status of patients."
Professor Lotery spoke about the study at the Macular Society's Working Age and Young People's Virtual Clinic in November, which takes place on the last Thursday of every month.
Watch Professor Lotery's webinar on Stargardt
Around one in 10,000 people are estimated to have Stargardt disease, and it is the commonest form of macular dystrophy. Find out more about the condition.