"I might look like you, but I am living with a sight condition. It impacts my vision and my mental health every day"
Posted: Friday 26 February 2021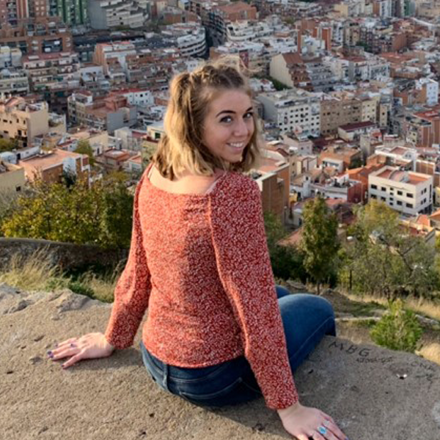 Beth was diagnosed with a rare type of macular disease, in January last year. It took three months for her to get the diagnosis after she started experiencing flashes of light in her vision.
At first, she was told there was no treatment and nothing could be done, but trusting her instincts she kept going back to her opticians. Eventually, she was able to persuade them to refer her to the hospital.
Beth, who was 23 at the time, was later told she had punctate inner choroidopathy (PIC) in her left eye, a rare macular condition caused by inflammation at the back of the eye.
"At the opticians I was told, very bluntly, 'Oh, you'll lose central vision eventually, and I can refer you to the hospital, but they'll say the same thing, that nothing can be done'. Which was obviously quite frustrating, because now, knowing what I know, it was actually quite a different story."
On Rare Disease Day (28 February) the 25-year-old will be raising further awareness of the condition, to prevent others going through what she has. She is also keen to highlight how macular conditions can affect anyone, at any age.
She said: "I'd hate to think that there are other people getting turned away, or discouraged, or believing that they can't contact the hospital, because it's just a case of, 'there's nothing you can do,' when, actually, with PIC, you can try and get it under control with treatment, and a lot of people have had success in restoring vision, as well."
Fortunately the initial treatment had a positive effect on Beth's vision and she went from not being able to read, to then being able read again. However, she is still experiencing flare ups and has permanent blind spots.
Talking about her diagnosis, Beth said: "I feel like it was such a depressing period of time. And it was so hard for other people to understand why I was upset, as well, because obviously they couldn't see what I was seeing. It was awful, because everything was just gradually getting darker and darker. And I just felt in complete fear."
Like many Beth's age who are receiving treatment for macular disease, she struggled to find anyone in a similar situation until she went online and joined a few groups on Facebook – including the Society's Working Age and Young People's group. It was online she was comforted by seeing that there were others who had been, or were going through, a similar experience.
"I just felt very alone." She said. "It's horrible for anyone to go through, at any age, but it would've been comforting, to have known people that were at my stage of life, that were going through similar, or had been through similar, and could offer me some words of wisdom.
"Even when I go to the hospital now, nine times out of ten I'm the youngest person in the room. I often look around, and think people must think I'm there to transport somebody with eye issues, rather than the patient."
Beth set up her own Instagram page to raise awareness of sight loss conditions, like her own and will be taking over the Society's Instagram page on Rare Disease Day – Sunday 28 February.
She said: "It's important to raise awareness of what people living with an eye condition are going through, or any sort of chronic illness, because with PIC, it's very often chronic and I take medication every single day to try and manage it.
"It'd be great if I can help people realise that I might look like you, I might drive my car still, I might work still, but actually, I am living with a sight condition, it does impact my vision every day, it does impact my mental health every day. It's something I'm learning to adapt to, but it doesn't mean that others shouldn't be aware that there could be other people out there living with this, and you wouldn't necessarily know."
Follow the Society's Instagram page and see Beth's updates on Rare Disease Day.