Medical research at risk
Posted: Thursday 07 January 2021 at 17:12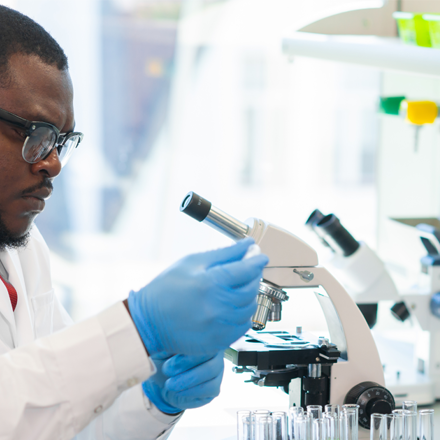 The progress of macular research is under threat as the coronavirus could leave a huge hole in medical research funding.
Medical research charities' income has been hit by the pandemic. Organisations belonging to the Association of Medical Research Charities (AMRC), which includes the Macular Society, have lost over a third of their fundraising income since the coronavirus crisis started last year. Collectively, this will leave a £310m hole in UK medical research funding, risking the loss of a generation of new researchers and setting life-saving research progress back decades. It will also reduce the UK's capacity to tackle big health challenges.
Last year the AMRC launched a Research at Risk campaign and asked the Government to set up a Life Sciences Charity Partnership Fund. The fund is a co-investment scheme, where the government would provide a level of match funding for future charity research over the next three years.
While the campaign has received universal support, the government has not yet pledged any money in support.
Cathy Yelf, chief executive of the Macular Society, said: "Funding from Government is urgently needed to support charities like the Macular Society continue to carry out groundbreaking research. The pandemic has had a huge impact on everyone and it is no surprise that charity funding has been hit. With your support we have worked so hard over the last few decades to make incredible progress in research into macular disease. If we are to Beat Macular Disease we cannot let this virus stand in our way. We must continue to protect the future of macular research through the pandemic and as we come out the other side."
On Monday the AMRC will launch the next phase of its campaign, asking for your support to write to the Prime Minister in the battle for funding for the sector.
You can write to the Prime Minister by filling in your details in the AMRC's pre-drafted letter.