"I personally think being visually impaired when you're cooking is much better than being sighted"
Posted: Thursday 24 June 2021 at 09:13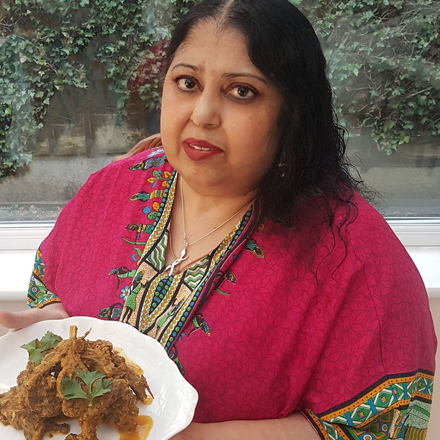 Visually impaired chef Kim Jaye will join us next week for a one-off webinar to share her passion for cooking and cook a dish that's great for eye health.
Kim lost her sight 25 years ago. As cooking was such a large part of her culture, she was determined not to let her limited sight stop her from learning.
She said: "Twenty five years ago, there weren't many services out there to help support you and to get you to do simple things like cooking.
"I'm Indian and food is very much a cultural thing for us. A lot of our lives are wrapped around food. So, not being able to cook was really difficult. So I decided to teach myself."
The Cook and Chat session will be a chance to share hints and tips for cooking with a visual impairment and increase your confidence in the kitchen.
Talking about cooking with a visual impairment, Kim said: "I personally think being visually impaired when you're cooking is much better than being sighted. When you're sighted and you cook you only rely on one thing, which is your eyes, and eventually your taste buds. But, when you're visually impaired you rely on the sight you still have, if you've got some, your sense of smell, sense of touch. You rely on all of those things and you can produce better food."
She added: "The message I want to get across is, things have changed drastically from 25 years ago. There are services out there. If you want to do something there's nothing that's going to stop you from doing it.
"Having sight loss doesn't mean your life ends. It just means you're going to begin a new path, done in a different way, and there's help and support out there and ways of dealing with things."
Kim will be joined by Matthew Cockerill, the founder of CKBK website and app which makes a collection of 500 cookbooks available via its website and app, fully accessible with screen readers.
The session will take place on Zoom from 7pm and 8pm on Monday 28 June.