Support with technology has been a lifeline during lockdown
Posted: Thursday 03 June 2021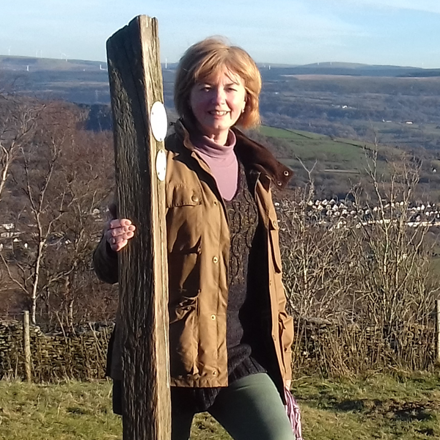 When Sheila retired as a training consultant for a software company four years ago, she wanted to spend her spare time volunteering.
After many years in the same role, she made a promise to herself that she would never teach again, or do anything related to IT.
But, when the pandemic hit and some of her face-to-face volunteering roles came to a stop, she soon found herself rethinking her decision.
She said: "It suddenly seemed extremely selfish to not use the skills that I have, when there were so many people out there who were isolated and needed to communicate, and their only option was technology."
Sheila signed up as a Connect by Tech volunteer for the Society, offering one-to-one telephone support for technology around the home. Our Connect by Tech volunteers help people with macular disease make the most of any devices, from smart phones to smart TVs and tablets.
She began by answering questions on Apple products, but is now providing support for a range of technology, including televisions and low vision aids.
"I'm sighted, that's my big advantage," she said. "I can advise on pretty much anything, because I can do the research to find information. Someone with a visual impairment may not know where to go, or even if they did, may not be able to pick through the detail. I'm happy to help."
Talking about the support she provides Sheila said she gets a lot of satisfaction from the role.
"Some people you call are in a complete state of panic. They start by thinking they won't be able to do it and I get so much satisfaction from hearing them calm down and realise they can. It's not an insurmountable mountain for them to climb."
She added: "As they grow in confidence with one thing, they grow in confidence in other areas. They feel more confident in themselves and that gives me an immense satisfaction that the little thing we've done has spilled into other areas of their lives. It's a great project to be involved in."
The Macular Society's network of Connect by Tech volunteers are on hand to answer a whole range of challenges, which could include anything from 'How can I get Alexa to find my favourite music?' to 'I want to surprise my daughter with a video call on her birthday'. No matter how big or small the challenge, they are here to help. They can also assist with using other useful web-based services, such as online shopping, reading recipes and listening to audiobooks.
Thank you to The Linbury Trust which has generously supported the work of our Connect by Tech service, which provides vital support to people living with macular disease.
In Volunteers' Week we would also like to say a huge thank you to all of our incredible volunteers, making a difference to the lives of people with macular disease. Volunteers like Sheila provide vital support and help beat the fear and isolation that a diagnosis can bring.
If you want to help people with macular disease, find out more about the opportunities we have available here