Health secretary urged to prioritise funding for medical research charities
Posted: Thursday 04 March 2021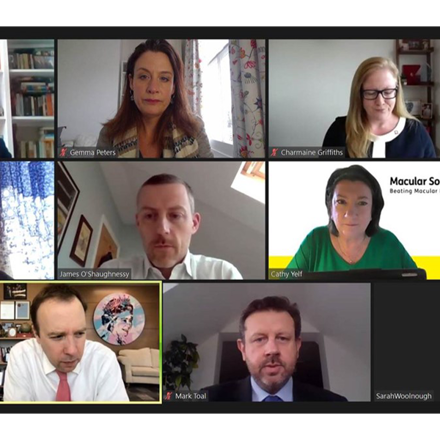 Our chief executive Cathy Yelf was among a number of charity CEOs who met with the health secretary Matt Hancock last week to discuss the impact of the coronavirus on medical research.
Medical research charities' income has been hit hard by the pandemic and could set life-saving research progress back decades- reducing the UK's capacity to tackle big health challenges.
The meeting was part of the Association of Medical Research Charities' (AMRC) Research at Risk campaign, which is calling for financial support from the Government to provide a level of match funding for charity research over the next three years.
Cathy also highlighted how ophthalmology is now the busiest specialities in the NHS and how the Society is working with the NHS to ensure patients are not forgotten in the transformation of services.
Cathy Yelf, chief executive of the Macular Society, said: "We are grateful to Matt Hancock for meeting with us to discuss this pressing issue and hope to have some positive news to share in coming months.
"Funding from Government is urgently needed to support charities like the Macular Society continue to carry out groundbreaking research.
"We must continue to protect the future of macular research through the pandemic and as we come out the other side."
Read more about the AMRC's Research at Risk campaign.