Spring Sideview out soon
Posted: Wednesday 10 March 2021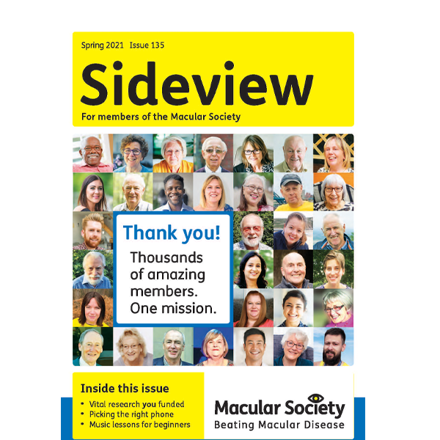 Sideview is the Macular Society's quarterly magazine, sent to all members in large print, audio CD or digital download. Look out for your spring edition in the next few weeks!
Inside you'll find:
A crash course in stem cell science
The story of our newest patron, singer Vince Hill
Tips from the macular community on working and jobhunting with sight loss
Updates on the research you funded
Your exclusive recipe from chef and food writer Peta Leith
Macular Society members get four issues of Sideview a year. Membership is the best way to stay up to date, join a supportive community, and Beat Macular Disease.
Sign up for a free, no-obligation six-month membership trial online or call 01264 350 551.