"I've learned to be a bit more compassionate with myself"
Posted: Thursday 20 May 2021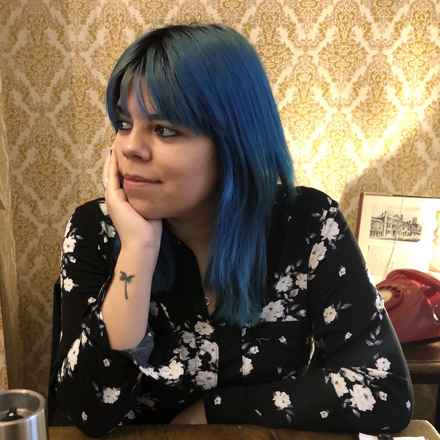 Emilee was diagnosed with macular disease at the age of 24. "I didn't think it really affected me very much at first," she said.

"I was always waiting for this really dramatic moment when I had a breakdown over it."
But, during her studies for her degree she realised the news that she was living with this life-changing condition had affected her more than she thought.
"I was doing my undergraduate degree in English literature and creative writing and I wrote one piece about my diagnosis," she said. "I confided in my teacher that these things were happening, and he encouraged me to write more about it."
"It was about six months after my diagnosis and as I started to write about it, I started to realise, 'Oh, I do actually have a lot of deep feelings about this.' I realised I had a lot of concerns and fears for my future."
Emilee, now 28, first went to the optician when she started seeing flashes of light when she was 18. But, at the time the optician couldn't find anything wrong. A few years later she noticed she had a blind spot in her central vision. It was then she was diagnosed with Stargardt disease.
She said: "I have a lot of worries about how it's going to affect my future. It feels quite uncertain. I'm very lucky, at this point, that my vision is still quite good, and I don't really need anything to help me function in my day-to-day life yet, but I don't know how it's going to progress. I don't know what the future looks like, and that is obviously very scary, just to have that very deep level of uncertainty at all times. It weighs on my mind every day, from the moment I wake up to when I go to sleep."
Emilee was diagnosed with Obsessive Compulsive Disorder (OCD) as a teenager but said she never really understood the diagnosis, and it never really affected her – until she was told she had Stargardt. It was then she started having intrusive thoughts, related to this condition.
Last year she decided to turn to the Macular Society for help, to try and manage some of her thoughts and feelings.
She said: "I started having a lot of really horrible intrusive thoughts about things happening to my eyes, and to my vision, things that would just completely take me away from everything I was doing, and ruin whole days.
"I decided to reach out. I figured that it would be really good to have someone who understands the disease, and understands more about the mental side of it than I did."
Emilee received support from the Society's counselling service, which has helped her find a way to cope with her intrusive thoughts.
"It was incredibly helpful," she said. "My intrusive thoughts have been much more manageable. And I also felt like I learned a bit more about being compassionate with myself and understanding that this is something that's quite difficult to go through. Having that understanding has made it easier to process my feelings on a larger scale."
Talking about the future Emilee said she hopes a cure can be found for everyone affected by macular disease.
She said: "There are so many people struggling with all kinds of forms of this disease, and it's not fair to anyone. And especially with Stargardt, I've been quite lucky in being diagnosed at an older age; I understand that it largely affects children. The thought of a child going through what I'm going through now is just heart breaking. So, if there's anything that could stop that, or at least help it be less severe, that would be amazing."
With our grateful thanks to Simplyhealth who have generously supported the work of our counselling service so that Emilee and others facing life with sight loss have access to the help and support they need.
For more information about our counselling service contact our Advice and Information Service on 0300 3030 111, between 9am to 5pm Monday and Friday or email help@macularsociety.org.