Double-award week for pandemic response
Posted: Monday 29 November 2021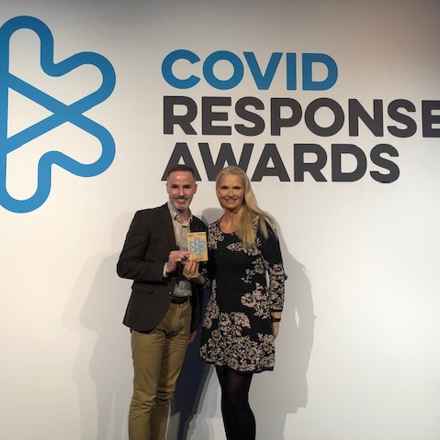 The Macular Society's efforts to continue to provide vital services to people with macular disease during the coronavirus pandemic have been recognised with two national awards.
Thanks to our continued work to reduce loneliness and isolation among those living with sight loss, we received bronze for 'Best Covid-19 Response in Charities or Not for Profits' at the Covid Response Awards.

The honour was awarded to charities that delivered a unique and effective service in the face of social distancing rules and increased demand.
Judges said: "What an amazing charity. The testimonials provided showed just how much the calls helped those losing their sight. Heart warming!"
Following this, the Society went on to receive the National Partner Award at the Visionary Annual Conference 2021.
When the pandemic hit in March 2020, the Society had to adapt its face-to-face services quickly, in line with restrictions. This included switching nearly 400 local support group meetings to the telephone.
These conference calling telephone lines proved a great success in keeping people connected to the services they needed. The Macular Society also worked in partnership and made the conference call lines available to various local sight loss organisations so they could support communities in their local area too.
Macular disease is an extremely isolating condition and lockdown saw those affected by sight loss more cut off than before, resulting in increased feelings of loneliness and declining mental health.
Cathy Yelf, chief executive of the Macular Society, explained: "When the pandemic hit, many of our face-to-face services came to a halt and reacting quickly was key to reaching out to people who needed us more than ever. We knew we urgently needed to keep our communities connected and we did so by making sure people could still access our services remotely.
"We're extremely proud we have been able to adapt our services in order to continue to make a difference to people affected by macular disease. It has been an incredibly difficult time for everyone and it's fantastic that our many efforts have been recognised with these awards."

How has our support made a difference?
Despite the pandemic 92% of the Society's 430 support groups across the UK stayed in touch.
Between the first lockdown to May 2021, 28,800 callers joined over 4,000 calls.
575 exceptionally vulnerable and lonely people joined the Society's Winter Warmers – a series of evening talks and entertainment on the telephone, to combat loneliness during lockdown.
82% of those felt uplifted following a call, whilst 75% felt more connected and it made a positive difference to them.
To find out more about our support services and how they can help you, visit our website. Alternatively, contact our Advice and Information Service on 0300 3030 111 and our friendly team would be happy to help.