New myopic macular degeneration support group
Posted: Thursday 25 November 2021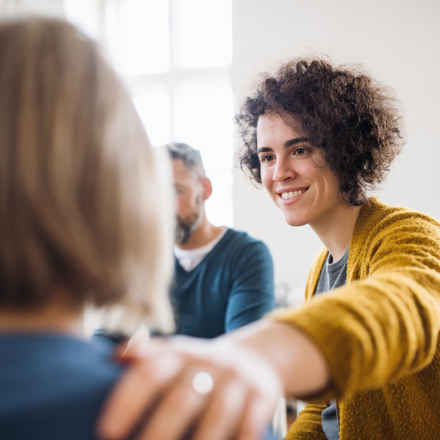 A new support group for people with myopic macular degeneration is launching in December.
The group is the latest in a series of condition-specific support groups for people living with different types of macular disease.
Myopic macular degeneration is a type of macular degeneration that occurs in people with severe myopia. Myopia is commonly known as short-sightedness; people who are myopic have a larger or longer shaped eyeball.
Sarah Cernis, was diagnosed with the condition 10 years ago and has been running a working-age Macular Society support group in Leeds since 2014.
She said: "It's more than support, it's support and friendship. It's meant an enormous amount to me over the years and I don't think you can underestimate how important those friends that have shared experience are."
She added: "It isn't that we always talk about eyes, it's that people understand what you're going though and there's an automatic acceptance."
Talking about the new group Sarah hopes it will not only support those who have been living with the condition for some time, but also those who have been newly diagnosed.
"When you have either a new diagnosis or something has changed in your condition, you sometimes want to check in with somebody who's got a similar condition to you," she said.
"With myopic macular degeneration you don't have as many certain answers, because the progression of the condition is dependent so much on the shape of the eye. People's prognosis is going to be very different but sometimes you just need to have a conversation with someone in a similar situation about how things worked out for them and this group will be a good opportunity to do that."
Sarah added: "Finding the Macular Society has made a huge difference to me, because of all the information and the support I've received. I'm pretty lucky in that I've been with the Macular Society for quite a long time. So I have lots of friends with macular and other sight conditions. I hope this group can help lots of people in a similar way."
The group will meet on Tuesday 14 Dec at 7pm. Register to join the first meeting.