High street opticians raises funds for two vital causes
Posted: Friday 15 October 2021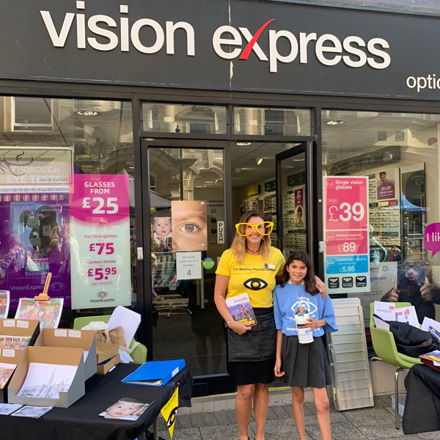 Colleagues at Vision Express stores across the UK are taking part in a range of fundraising activities to raise vital funds for the Macular Society and the Childhood Eye Cancer Trust (CHECT).
From October, each store, along with Vision Express' Support Centre, is taking on its own unique challenge or event to raise money to help people affected by macular disease and retinoblastoma, a rare type of eye cancer which affects children.
The first store to hold a fundraising day was Vision Express in Dorchester which celebrated World Sight Day with an art auction, raffle, and cake sale. With funds still coming in, the store has already raised more than £600, which will be split between the two charities. Store manager, Sam Zambelli, is also wearing a large pair of yellow sunglasses to work every day to raise more money!
Sam said: "Our fundraising day was a huge success thanks to the wonderful, generous raffle donations from so many shops and restaurants in Dorchester and Poundbury.
"Vision Express as a company is so passionate about raising awareness of both eye related diseases - macular disease and childhood eye cancer - but as an individual who has worked in optics for more than 15 years, and worked closely with children beforehand, and who also sees my dear 95-year-old nan suffer with macular disease, it makes it even more personal and so, so important."
Many more stores are following Sam's lead and helping to raise more funds to beat macular disease and support children and families dealing with a diagnosis of retinoblastoma.
How you can help
If you'd like to support the activity, please do pop into your local Vision Express store to say a big thank you and tell them more about the work the Society does and the difference their support is making.