New online risk checker estimates your risk of developing macular disease
Posted: Thursday 14 October 2021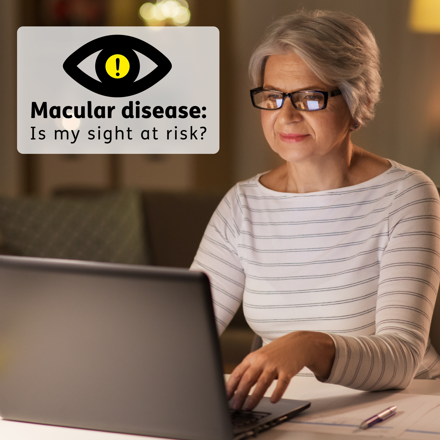 A brand new online tool has been launched to enable you to estimate yours, or your family's, risk of developing macular disease.
The online 'risk checker' was launched on World Sight Day (Thursday 14 October), to highlight the importance of eye health and encourage people to have regular sight tests.
By answering a short series of questions, the tool allows you to see how likely you are to lose your sight to macular disease, which affects nearly 1.5m people in the UK. 
If you already have the condition, you will be able to access more information on how to protect your sight. Although it is a common condition, many people remain unaware there are things they can do to potentially slow the progression of the disease.
Roger Slennett, who was diagnosed with early age-related macular degeneration (AMD) at a routine eye test in 2001, said: "I went for a standard eye test and the optician said I had the early stages of age-related macular degeneration. I looked at him and said 'I'm sorry, what does that mean?' He said: 'you will lose your sight over time, there's no treatment for it. He added that as a 48-year-old I had the eyes more typical of a 65-year-old.'
"That did come as a bit of a shock to say the least, particularly as I'd never heard of the condition, nor what it was about."
Roger was worried what would happen to his vision in the coming days and weeks and looked up what he could do to protect his sight.
He added: "As there's no treatment, I talked to the optician about what I could do to slow it down, such as change my diet. I did a huge amount of research on it. I sat down in the weeks that followed and thought about things I had done in the past, such as squinting in bright sunny days and not wearing sunglasses. 
"I changed a lot of the things after that. I don't go anywhere without a cap on, I go for regular check-ups at the opticians and I changed my diet and ate a lot of kale and green vegetables. I tried to do what I could to reduce some of the risk factors and stop the condition progressing."
The online tool, which has been funded with help from The Linbury Trust, asks users to answer just five simple questions to estimate their risk. It also suggests easy and practical things they can do to drive down their own risk and protect their eyes.
Cathy Yelf, chief executive of the Macular Society, said: "Our sight is precious. We know it is one of the senses people most fear losing, yet many people remain unaware of the simple things they can do to protect it, including attending regular sight tests.
"An optician may be able to see early signs of the condition, even before you notice any change to your vision. And, the earlier you find out, the more likely that sight can be saved."
Check your risk and get your own personalised risk report or share this tool with friends and family members on Facebook and Twitter below.