"I'm determined to live as healthily as I can, to preserve some sight"
Posted: Thursday 02 September 2021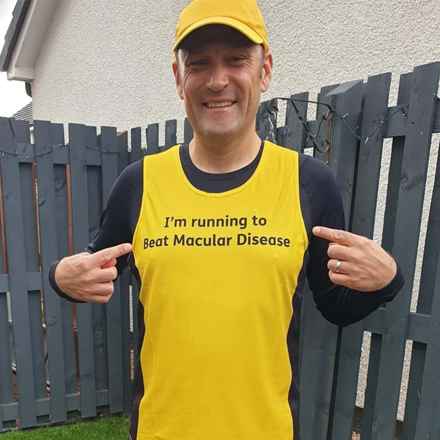 Scott Hamilton is one of many people who attended his two-yearly sight test expecting nothing more than a slight change to his prescription.
But, in May this year, he was given the devastating news that the slight deterioration he had noticed in his vision was in fact due to early onset macular degeneration.
At 44 years old, the news came as a shock.
"I knew my prescription had deteriorated, but I wasn't expecting it," he said. "When she said there's no cure and you realise it's only going to get worse over time, it's a wee bit sobering. Once I started reading a bit more about it, a lot of things started making a bit more sense."
But, Scott was keen to take control of the situation and do what he could to protect his sight.
After working as a nurse and looking after COVID-19 patients during the pandemic, he had already made positive changes to his lifestyle, improving his diet and increasing the amount he exercised.
He said: "After working on the COVID-19 wards I realised how much my unhealthy lifestyle was putting me at risk if I contracted the virus.
"I'd been struggling a bit, with just juggling family life, work balance, and into my mid-40s I was carrying too much weight. I wasn't eating particularly well, and obviously lockdown was exacerbating that a little bit. In January this year myself and my wife decided, during lockdown number two that we had to sort it out, so we started healthy eating. And at that point, I was walking, and just trying to get a bit of fresh air, and get out of the house."
Scott was then encouraged to start running, but after struggling to run more than 150 metres without stopping, he knew he had a long way to go.
In May when he received his diagnosis, he decided to take the commitment to the next level and after receiving support from the Macular Society, he took the bold move to sign up for a half marathon, to raise funds for research.
He said: "The optician told me, "there's not really a cure, and you've just got to keep a healthy lifestyle, and you've just got to manage it over time." I realised that, although I'd already started a healthier lifestyle, actually, I've got to try and keep this for good, if I'm going to help to try and do what I can to help my sight."
Scott had reached his 12km target with his running when his wife suggested running a half marathon to raise money.
He said: "Having had the diagnosis I thought, 'Absolutely'. If I'm running with a purpose, for something, then it can only be a good thing. So I signed up for the Scottish Half Marathon, and I was delighted to see the Macular Society was one of the associated charities."
Scott will take on the flat route of the Scottish Half Marathon on Sunday 19 September.
Talking more about his diagnosis and its emotional impact, he added: "I'm quite a positive person, in that I don't have a lot of negative feelings about things. With this condition you're left feeling a little bit in the lap of the gods, as to how it's going to go, but I'm determined that I'm going to try and live as healthily as I can, to preserve some sight. I know it can take a number of years, but you start to just be a bit more conscious about how fundamental to daily life your eyes are."
So far Scott has raised nearly £600 of his £700 target. Read more on his JustGiving page.