Colleague with Stargardt prompts support from global company
Posted: Monday 25 April 2022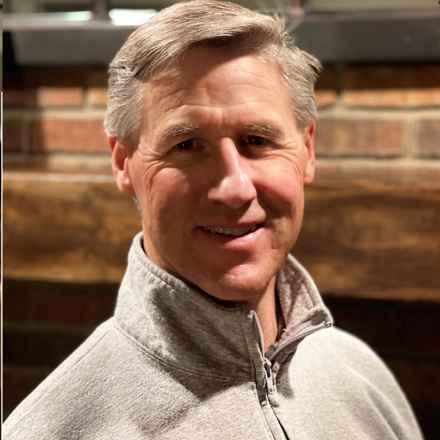 A world-leading producer of high-quality garden seeds has pledged its support to the Macular Society in recognition of its former facilities manager who has a rare form of macular disease.
Every year the global company PanAmerican Seed donates a percentage of its sales of its trademark disease-resistant Beacon Impatiens, to less-widely known charitable organisations.
This year the company has selected two organisations supporting people with sight loss, in support of Mark Chalmers who retired from the company earlier this year and was diagnosed with Stargardt in his 40s.
Mark said: "It is such an honour that my former colleagues have chosen these organisations. To know that they respected me enough to do this means a lot to me."
Mark, who said his vision has a big impact on his life and work, is now working part-time at a US-based low vision rehabilitation clinic, Spectrios Institute for Low Vision, which will also benefit from a donation from PanAmerican Seed. Spectrios relies on donations to provide support for low-income individuals, free vision clinics for school-aged children, summer camp programs, and other activities.
He said Spectrios helped him to adapt to his sight loss and provided him with the motivation and tools he needed to continue working when his eye sight deteriorated and impacted his ability to do things the way he had always done in the past.
"I first noticed problems with my vision when I noticed there were blank spots in the white lines on the side of the road. Over time, I lost more and more of my central vision and was having trouble reading, driving, and recognising people.
"I didn't know that organisations like Spectrios existed but with the help of technology I have continued to be able to adapt to losing my vision and they have really helped me to do this. I want other people to know this support exists and to help other people who are struggling."
Mark said PanAmerican Seed was always supportive of his vision loss and he found being open and honest about his condition helped.
He added: "It helped to tell people that I had sight loss and when I was struggling to do things, so that I could get support. For example when I started to not recognise people's faces I would tell them, so they knew it was because of my sight loss and I wasn't ignoring them."
"One of the most memorable things that someone said to me when I told them I could no longer see people's faces was that it was a good thing because I now got to meet their soul first and not be influenced by first impressions of how they looked. It was an amazing insight."
Mark, who worked for the company for 33 years loves gardening, but admits his own garden needs some work. He said: "My wife always says to me that considering who I worked for our garden should look a lot better than it does, but it's like the plumber or the electrician who always has work to do in their own house."
Talking about gardening with sight loss he said: "I can't drive and I can't recognise people. But, I can do just about anything else if am willing to adapt and do it a bit differently. In the case of gardening, I often have my nose up so close to the plants so I can see what I'm doing. But, for me, it is not about how well I am able to do it, it is the activity of doing it in the first place and just being outside and enjoying the sounds and smells of nature on a warm summer day."
Beyond the donation at the end of 2022, PanAmerican Seed will also raise further awareness of the fight against sight loss through its social media channels, website and customer communications.
Find out where to buy Beacon Impatiens.