First-time marathon runners pledge funds to macular research
Posted: Friday 22 April 2022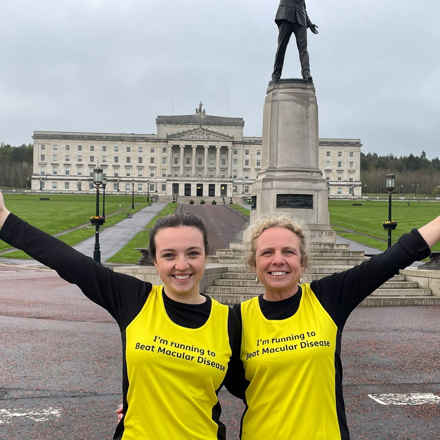 A mother and daughter team will be taking on their first full marathon next month to raise vital funds for macular research.
Patricia and her daughter Claire will be taking on the 26.1-mile challenge after witnessing first-hand the impact of macular disease on their family.
Kathleen, Patricia's late mum, was diagnosed with dry age-related macular degeneration (AMD) in her 60s and the pair want to raise what they can to help find a cure.
"Her eye sight worsened when she was in her 60s and she started making mistakes in the kitchen" Patricia said. "I remember she burnt her hand when she put it on the cooker, not realising it was still on.
"Mum availed of and was grateful for whatever help was available. If there were people in the room she could see their outline but could only identify them when they began to speak. She loved sewing, knitting and cake decorating but the deterioration in her eyesight meant that she could no longer carry out her pastimes.
But, despite the impact the condition had on her life, both Claire and Patricia said she never complained and always said there were other people worse off.
Claire said: "Granny had massive playing cards, a massive telephone and would often ask us to read the labels and prices of goods when out shopping. It wasn't nice to see her struggle but she never complained. Unless you knew her like we did, you would not have known that she suffered with her eyesight."
It was Claire's idea to run the Belfast Marathon, and the pair are on course to raise £1,500 towards research.
Claire added: "I've looked up a lot about the Macular Society online and what my grandmother had so I've learnt a lot. It's good to raise awareness of it and I don't think it's a charity which many people will be running for on the day so it's great we are able to do our part.
"The money itself will help research into the disease. So much of the population gets macular disease so if we can contribute to help research find a cure, or help make people's lives easier with their condition, that's all we can hope for."
The Belfast Marathon takes place on Sunday 1 May.
If you'd like to donate to Patricia and Claire's JustGiving marathon efforts, visit their JustGiving Page.
Or, if you've been inspired to help fundraise for the Macular Society visit our Fundraising and Events webpage to find out how you can get involved and Beat Macular Disease.