Faricimab - all you need to know about the new treatment for wet AMD and DMO
Posted: Tuesday 30 August 2022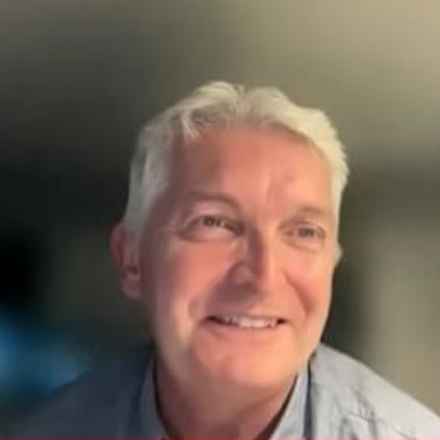 "There's a long way to go but I'm more optimistic. I was thinking of retiring a few years ago, now I'm so excited about the treatments we can offer patients I'll probably stay another few years." 
Earlier this year a new treatment for age-related macular degeneration (AMD) and diabetic macular oedema (DMO) became available, which could see patients go up to 16 weeks between injections.
In our recent webinar, as part of the My Macular and Me series, consultant ophthalmologist and retinal surgeon at Ian Pearce revealed more about Roche's new drug Faricimab (Vabysmo).
As well as discussing how the drug differs from existing treatments on the market, Pearce spoke about how patients can access it.  
At the webinar, Pearce, who is based at St Paul's Eye Unit at the Royal Liverpool University Hospital, said: "Physicians throughout eye units in the UK will be ordering the drug in to be able to offer it to both new patients and patients on existing treatment.
He added: "It is going probably going to become the primary treatment for most patients with wet macular degeneration."
Why do we need more drugs for wet AMD?
Talking about the prevalence of wet AMD, Pearce highlighted that 35,000 to 40,000 patients are diagnosed every year – that is five patients every hour.  
"With this growing number of patients,  health services are stretched," he said. "How can we adapt to it? There's a lot of interest in how to get treatment that lasts longer than four or eight weeks, which is where the interest in Faricimab has come in."
He added: "Four monthly injections is three times a year, so if we can move the pendulum and instead of coming every month or two months get patients with extended intervals, then that is a significant benefit, not only for us as a health service to provide care, but if we can cut the number of times a patient visits it means we free-up slots to make sure those visits occur on time. It's critical that when we give you an appointment, we have capacity to get you in for any treatment."
How does Faricimab differ from existing drugs?
Pearce described Faricimab as the 'first of its kind' and described how it differs from licensed drugs Lucentis and Eylea.
He said: "The molecule we inject is an antibody (like Lucentis and Eylea) but it has two little arms on it. One arm is the VEGF, which is the same as Lucentis and Eylea, but in a different arm it's got anti angiopoietins-2. So, you've got two molecules for the price of one, that's where we believe its hope will lie.
"From a patients perspective what we hope you see will be a big difference. Instead of coming every four weeks or every month you can extend out to, hopefully, between three and four monthly intervals."
He added: "Although it's still an injection in the eye….If we can do that with three injections per year, you can imagine the impact that's going to have."
Who can access Faricimab?
While Pearce predicted that Faricimab will become the 'primary treatment' for new and existing patients with wet AMD and DMO, it won't be for everyone.
"That isn't to say if you're having existing treatment that you need to change," he said.
However, Pearce encouraged patients to speak to their eye specialist about the new drug, to discuss if it would be the right option for them. As a physician, he said patients should be able to trust their eye specialist enough to ask questions.
"Medicine for the 1,000 years has relied on trust," he said. "You have to trust and believe in the physician. I think what's important is to raise it. As a physician if we've got lots of patients coming through, the easiest thing is to keep you on the same drug if I have to change you to another drug then it takes time. When you're in a busy clinic it's very easy to want to get you in and out with the same drug and there's a bit of an incentive not to change. So, by you asking 'I have heard about Faricimab (Vabysmo), do you think that will help me?'."
He added: "If you're not happy, raise it again the next month. A lot of time we make decisions and patients think that decision is forever and it isn't. The way I treat patients compared to 20 years ago is completely different. I've got lots of new drugs, so keep asking."
When is treatment most effective?
Some people with wet AMD respond better to treatments than others. The reasons for this are not currently known, but Pearce highlighted the importance of receiving treatment as soon as possible.
He said: "The most important thing is if you notice a sudden distortion in your vision, get seen straight away. The quickest and easiest way at the moment is via a high street optician. I am an eye specialist and my eye unit is open 24 hours, but the reality for most patients is you don't have that facility. High street opticians who are highly trained and very attuned to picking up early signs of wet macular degeneration."
He added: "If you have good vision there's 80 to 90 per cent chance I'm going to keep you with great vision for the next five years and that's where we want to be."
What is the future of treatments for wet and dry AMD?
Pearce shared his hopes and excitement for the future treatment of wet AMD and DMO.
"For the last 10 years wet macular degeneration treatment has pretty much stood still," he said. "We've had these false starts and nothing's changed. I think the next five years will be a big difference. We've got Faricimab now, it's available now, you can go and have it tomorrow. But, there are other agents that are in the pipeline which will be working more effectively."
While there is currently no treatment for dry AMD, Pearce said there was a 'revolution' for treating the advanced stages of the disease in the near future. He said: "There are many, many patients who have very advanced dry who suffer significantly with loss of vision and at the moment for those advanced dry forms we don't have treatments. However, there are treatments coming online and there's probably going to be a revolution in treating very advanced dry AMD in the next 12 – 18 months."
Catch up on Ian Pearce's webinar.
Register for our next webinar on macular disease and cataract surgery on Tuesday 20 September at 7pm.