New National Clinical Director for Eye Care appointed
Posted: Monday 01 August 2022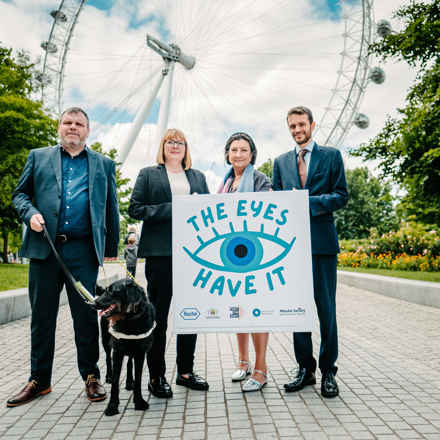 A new role which could help transform eye care services for people living with macular disease and other sight conditions, has been appointed by NHS England. 
Louisa Wickham, who is the medical director at Moorfields Eye Hospital NHS Foundation Trust, has been announced as the UK's first National Clinical Director for Eye Care in England.
The Macular Society first revealed plans to recruit the position in November 2021, after campaigning for the role for several years.
National Clinical Directors (NCDs) are practicing clinicians who work part-time at NHS England and NHS Improvement. They provide leadership, advice, input and support across more than 30 health conditions and services, ranging from cancer and cardiovascular disease to urgent and emergency care.
Until now, there has been no representation for eye care, despite ophthalmology being the biggest outpatient department in the NHS.
The Eyes Have It (TEHI) partnership, a leading coalition of organisations which campaigns to improve the lives of patients with eye conditions, has welcomed the role. The members of TEHI have expressed concern that people are unnecessarily losing vision owing to a poorly resourced, fragmented and inconsistent care system.
TEHI, of which the Macular Society is a member, will be calling on the newly appointed NCD for Eye Care to implement a national strategy to address these issues.
Cathy Yelf, chief executive of the Macular Society, said: "The number of people with eye disease is expected to double in the next 25 years, and there are already people losing their vision today as a result of delays to their care.
"We are delighted to welcome Louisa on board as the new National Clinical Director for Eye Care and will be hoping to work closely with her to improve services across NHS England.   
"A new strategy will help draw all of the fragmented parts of eye care together and ensure patients get coherent care from initial diagnosis, right through to managing their condition in the long term."
A spokesperson for TEHI partnership added: "We believe a national eye care strategy would help transform eye care services by standardising diagnostic and care pathways, ensuring eye care services and the workforce they depend upon receive the investment needed and addressing data collection issues."
TEHI has launched a pledge wall, to call for support as part of its drive to improve the lives of people with sight loss.
To date pledges have been made by key decision makers including Louisa Wickham, Caroline Nokes MP, John Ashcroft, director of eye care at NHSEI, Phil Ambler, England County Director of the RNIB and three clinical leads for Ophthalmology at the Getting it Right First Time project.