Sight loss 'brushed to one side' at work before counselling
Posted: Wednesday 31 August 2022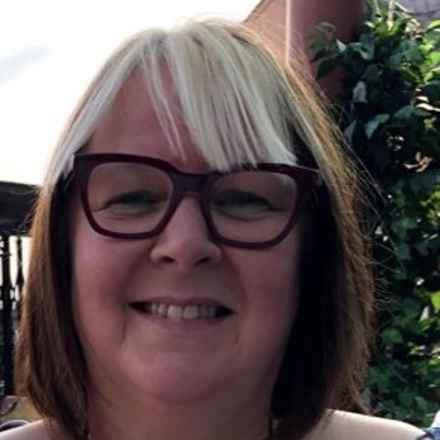 A new employment counselling group provided a nursery worker with the confidence to take control of her macular condition at work after initially describing her 'put up and shut up' attitude.
Karen felt she was not getting the support she needed at work when she first told her employer about her diagnosis.
The nursery practitioner, who was told she had age-related macular degeneration (AMD) in May 2019, said her diagnosis "was just brushed to one side" and "never really addressed" by her work.
She said: "I was very emotional so it was hard to find a time to discuss it at work. But, I've got there now thanks to the Macular Society.  For six-eight months it was 'put up and shut up.' I think because I looked okay, they didn't understand it.
"That made me feel absolutely awful. I'd come home and be very emotional, I felt I was being discarded, that I wasn't good enough to do a job I'd done for many years."
The 56-year-old said she was never approached to ask how she was managing.
Karen sought counselling from the Macular Society. These were 1-1 phone calls, followed by group therapy sessions for people in employment earlier this year. Karen said those discussions around employment law and understanding more about her needs, gave her the power to lead the changes in her workplace.
She continued: "I realised I was making excuses for everyone else but this is about me and directing others to put things in place to help me. I do feel different about things now and it helped me approach my boss when I went back to work. I got all the information I needed to have that conversation and my manager and I went on to have a very honest conversation.
"Without the counselling, I don't think I would have approached things at work at all, if I'm being honest. I'd still be there thinking I'm just a burden, that's just how I felt but I'm on the right path now.
"I think I've made my voice more known at work and I feel more confident, to manage my condition and I can talk about it a lot more to get the support I need. It's just been comforting and a positive experience for me, so thank you very much to the Macular Society."
From her experience, Karen's advice to others is to speak out. She said: "Get as much help as you can, from wherever you can. You are the most important person in this and you need to live your life or do your job as normal as you can. Tell people about your condition because if they can't see it, they need to know about it."
Support for you
Our team of qualified counsellors have extensive experience either personally or professionally within the field of sight loss.
If you would like to receive counselling or hear more about the Society's support services, contact our Advice and Information team on 0300 3030 111 or email help@macularsociety.org