New research funding for diabetic eye disease
Posted: Thursday 01 December 2022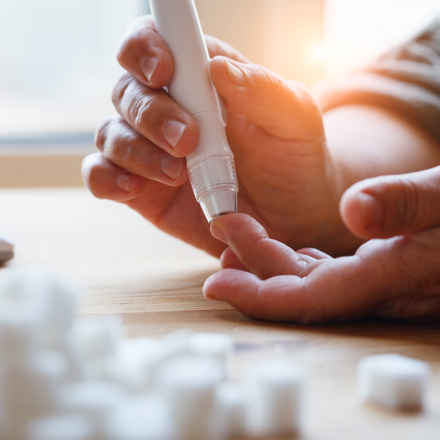 Leading eye charities, including the Macular Society, have partnered with Diabetes UK to fund more research into diabetic eye disease. 
Together the new partnership is investing in brand new research to improve our understanding of who is at highest risk of eye damage and provide better, more tailored treatment to prevent it.
The partnership is calling on scientists to apply for the funding, with new ideas to help improve the ability to detect and treat diabetic retinopathy before it gets worse, to prevent avoidable sight loss for people living with diabetes.
Diabetes is one of the leading causes of eye problems in the UK, Diabetic macular oedema (DMO), a form of diabetic retinopathy, is the biggest cause of sight loss in diabetics.
High blood sugar levels over a long time can lead to a complication called diabetic retinopathy, where blood vessels in the eye are damaged. Regular eye screening can catch the first signs of problems, but the COVID-19 pandemic has led to a backlog in screening and treatment, so more and more people are experiencing issues with their sight.
To address this growing problem, Diabetes UK's Diabetes Research Steering Groups have brought together researchers and people living with diabetes, to unearth the most urgent questions in sight loss and diabetes research.
Alison Blackburn, who lives with type one diabetes and sight loss, helped to shape this funding call. She said: "After having diabetes for 63 years and being registered blind for 27 years, I have personal experience of how sight loss can impact various parts of life. The saying that prevention is better than treatment is particularly apt when it comes to sight loss and should be of upmost importance.
"Identifying those that are likely to experience sight loss could bring numbers down, limiting the many impacts that sight loss has on a very stretched national health service. A sick eye is often a sign of a sick body and preventing sight loss can help to prevent further complications, improve the ability of people to manage their diabetes, prevent stress, and improve mental health."
Anna Morris, assistant director of research at Diabetes UK, said: "We're thrilled to be working with so many partners on this new highlight notice. Diabetes is the leading cause of preventable sight loss in the UK, and this exciting collaboration will help researchers to make important strides in lowering the risk of people living with diabetes experiencing this devastating complication."
Geraldine Hoad, research manager at the Macular Society, added: "Diabetic macular oedema (DMO) is a devastating condition and the most common form of sight loss in people with diabetes. Even with regular screening, thousands of people develop the condition, which makes it difficult to do simple things so many of us take for granted, such as reading, watching TV or even recognising the faces of their closest friends and family.  
"We're delighted to be working with Diabetes UK, Fight for Sight and Moorfields to fund more research so better treatments, or a cure, can be found to prevent anyone with diabetes from facing the devastation of sight loss."
If you're a researcher, find out more about the call and how to apply by 1 June 2023.