Tackling the challenges in eye care
Posted: Friday 02 December 2022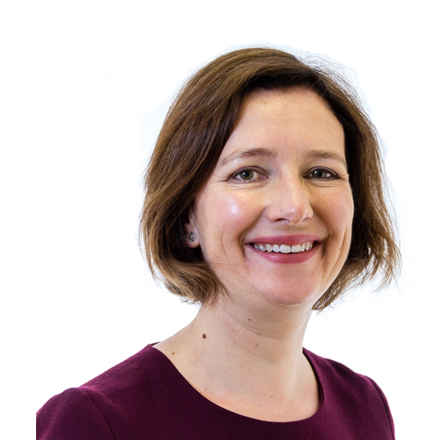 The new national clinical director for eye care has spoken about her plans to address the challenges across ophthalmology services in the UK, including the increasing demand for NHS services.
Louisa Wickham was appointed in the brand new role earlier this year, to help transform services for people living with macular disease and other sight conditions.
Speaking to BBC Radio Four's In Touch programme, Louisa said: "We all know eye care has been facing a number of challenges – it's one of the largest volume outpatient specialties with over 10 million appointments per year."
She added: "Really for ophthalmology, what we want to focus on is the prevention of irreversible loss of vision and that's why there is increasing recognition that we need this leadership to help address the challenges and increasing demand."
Louisa, who is the medical director at Moorfields Eye Hospital NHS Foundation Trust, laid out her priorities in the role. These included working with local and regional teams to help address the significant challenges ophthalmology is facing. "We're not going to achieve that by just doing more of the same," she said. "Eye care needs to transform and do things quite differently. No one single focus is going to do that, it's going to involve many initiatives."
With new treatments recently being made available for conditions such as wet age-related macular degeneration, Louisa highlighted the importance of research and ensuring NHS eye care services are equipped to deliver these new treatments when they become available.
She said: "I think the fact we have this number of possibilities is really due to research in eye care and for me, the most important thing is to ensure we have continued support of the research agenda within eye care and work on bringing those fantastic innovations and discoveries into clinical practices as quickly as we can to prevent sight loss."
The Macular Society, along with other members of The Eyes Have It partnership, has called for a National Eye Health Strategy. The partnership will be working with Louisa to help shape the strategy which aims to reduce waiting times, improve patient experiences and increase capacity.  
She said: "The introduction of my role will further establish a conversation at the heart of the NHS about a national approach to eye care but we do need to build consensus around the transform model for eye care. I'm committed to working with the whole eye care sector to identify those opportunities, to try and find things that are best done centrally at a national level, while also making the most of regional and local opportunities. It means the NHS can work together on a shared goal for eye care, while also making sure local teams have the flexibility to meet the needs of local people."
Listen to Louisa's full interview on BBC Radio Four's InTouch online.
MP Marsha de Cordova, the Labour MP for Battersea and co-chair of the All Party Parliamentary Group on Eye Health and Vision Impairment, has also been leading the calls for a National Eye Health Strategy, presenting a bill in Parliament. 
Speaking in the House of Commons in her motion for leave to bring the bill forward, she said that a national strategy published by the Secretary of State for Health should: "include measures for improving eye health outcomes, for reducing waiting times for eye health care, for improving patient experiences of eye health care, for ensuring that providers of eye health care work together in an efficient way, for increasing the capacity and skills of the eye health care workforce, and for making more effective use of research and innovation in eye health care."
She added: "Anyone can be impacted by sight loss, and members from across the House will have hundreds of constituents affected."
The bill's second reading will take place on Friday 3 March 2023.