Jazz singer to complete Winter Warmer lineup
Posted: Wednesday 02 February 2022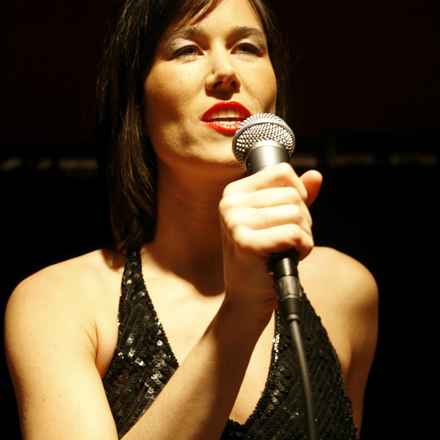 A jazz musician who was diagnosed with Stargardt disease at eight years old will conclude this year's series of Winter Warmer calls, which have provided comfort, friendship and entertainment during the long winter nights.

Singer-songwriter Katriona Taylor will be the final guest in the series of events which have included entertainment from storytellers, historians and actors.
Katriona became a musician after initially training as a solicitor. She said: "After practising as an intellectual property solicitor in the City of London, I decided that it was not going to be for me for life and my love of music drew me away from my career as a solicitor and towards singing. This had always been a passion of mine."
The mother of two, who has recorded five albums to date recalls working world-renowned artists such as 11-times Grammy award-winner George Benson and The James Taylor Quartet.
"I have performed on hundreds of stages with some of the world's best musicians," she said. "My second career as a singer has been very exciting and I have also discovered I am able to compose and write songs."
But despite her successful musical career, when Katriona was diagnosed with Stargardt after her teachers noticed she couldn't see the board properly, she was uncertain about what her future would look like.
Her diagnosis came as a complete shock.
She said: "No one in our family even wore glasses, no one in our extended family for years before had reported any problems with their sight that was similar."
"I recall the consultant saying that I would never drive - for some reason that stuck in my mind. He also told my parents that I would need to go to a special school for the blind and that it was a very serious condition, focusing on the negatives."
She added: "I remember my mother weeping after the diagnosis and me feeling a little confused but on the whole I carried on as before. I went to a mainstream school and used magnifying glasses to assist me with reading."
Gradually her vision deteriorated and today she talks about the impact her sight loss has on her life.
She said: "The diagnosis affects every area of my life, from how I am able to exercise and socialise, the extent to which I can travel around the world, to raising my children and my work life. I have to make adaptations in all these areas and ask for help from others."
Although her sight condition affects her independence she was keen to highlight that there was always a way to overcome any challenges.
"There are always ways around obstacles and I have led a fulfilled life full of fantastic challenges and achievements."
"With my visual impairment, I am not able to read music but I am able to play instruments and have found a way of writing music down so that it could be transcribed."
Katriona added: "There is no getting around the fact that having a sight loss condition will make life more challenging, more stressful and it can feel like a lonely business at times, but if you are honest, seek help and stay determined, you can achieve what you wish. I don't believe a lack of vision has to limit you. There are now many charities which support people with sight loss and a great community with which to share experiences and help access things. This wasn't always the case when I was younger and I'm very grateful for these charities today."
Katriona has just released her album Blind Passion, which celebrates the music of blind artists and the trailblazers who have inspired millions. See her website www.katrionataylor.com for the album and her upcoming show dates.
There are just three events left in the series of the Winter Warmer calls, which have taken place every Wednesday evening since November.
The remaining events are as follows:
- 9 February Glenis Williams: Love in the Black Country
- 16 February Clare Murphy, professional storyteller
- 23 February Katriona Taylor, singer-songwriter with Stargardt disease
For more information and to book your place, call the regional services team on 01264 560 259 or email winterwarmers@macularsociety.org
Please provide your name, contact details, and preferred booking date, and a member of the team will confirm your space.