What role does our immune response play in AMD?
Posted: Tuesday 11 January 2022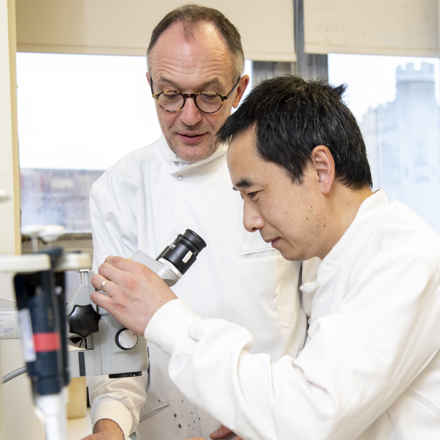 The Macular Society's monthly webinars are returning for 2022, with the first event looking into new research exploring how our immune response can lead to macular disease.
The first session of the New Year will also explore the progress which has been made in macular research and what this means for the future.
At the session we'll be joined by professor Andrew Dick, director of the UCL Institute of Ophthalmology who will share his own hopes for the future of macular patients. 
Professor Dick's project Healthy mitochondria, better sight: stopping early AMD by helping eye cells to use energy better, is looking into how the exaggerated response from the immune system, which occurs to protect our cells from damage, can affect the retina and eventually lead to sight loss. His team are hoping to understand more about the triggers that cause this overreaction and send systems out of balance. With this knowledge it is hoped new therapies and treatments can be created.
At the webinar on Tuesday 18 January, Professor Dick will also reflect on his comments in the Society's 2021 Christmas appeal about the 'rapid progress' being made in research. Professor Dick believes our knowledge on age-related macular degeneration (AMD) is progressing so quickly that in five years' time, we will be talking about more than just two types of AMD, 'wet' and 'dry'.
This knowledge could mean we will not only understand the different ways the disease develops, but how quickly it leads to sight loss, and different treatments for each type.
He also highlighted how the last couple of years have shown us just how fast progress can be made, when the need and the funds, are there.
"People are just starting to see what a huge public health issue AMD is, and the technology is there," he said.
"In a few years you'll be able to use your smartphone camera to monitor the back of your eye. What we need are the funds to collect and analyse millions more high-quality images, so it has nowhere left to hide.
"The secrets of macular disease, and the keys to beating it, are ready to be exposed."
To hear more from professor Dick, register for the event and join us on Tuesday 18 January at 7pm.