Partnership calls to combat eye treatment delays
Posted: Friday 01 July 2022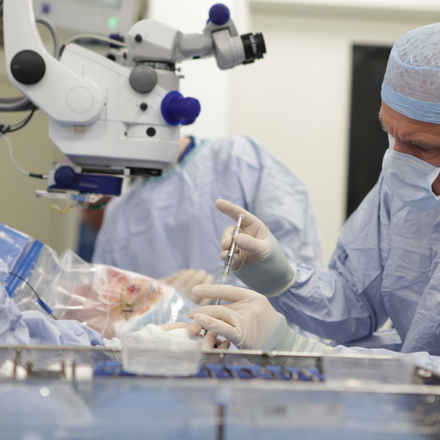 The Macular Society is working closely with health bodies across Wales in order to help them combat delays to eye care treatment in the country.
Wait times for eye treatments hit the headlines this week when Gwyn Williams, of the Royal College of Ophthalmologists, said the wait times for key injections, such as those for wet AMD, have become the "biggest they had ever seen."
Macular Society Senior Regional Manager Adele Francis (South Wales) and Regional Manager Marian Williams (North Wales) sit on different boards, where they are able to feedback concerns and thoughts from people they meet at their various support groups up and down the country.
Marian said: "We're constantly checking in with people at our support groups, asking about their injections, are they happy with their appointments, is everyone up to date with their treatments? If we need to, we direct them to our Advice and Information service which can raise any appointment concerns on the patients' behalf if necessary."
Adele is also part of an eye care collaboration group, as a representative of the collective patient voice, made up of consultants and managers, who have been working to ensure as many patients are seen in as timely a manner as possible. A request has been made to find out what initiatives are underway among the different healthboards to improve treatment delays.
Adele said: "Being close to the people who need the care and support and then reporting back to the collaboration groups, we are trying to make a difference. We're ensuring people's concerns are being heard so we can play our role in tackling the delays.
"We know wait times have been a problem for a while and we are asking what more can be done to combat the issue, what initiatives are being worked on."
Transferring patients for quicker treatments elsewhere, mobile treatment units and more trained nurses to give the injections have all been mentioned among health professionals.
Chief Executive of the Macular Society Cathy Yelf said: "These are not new ideas but if these haven't been implemented in Wales already then we really need to see the foot on the pedal. It's not an easy turnaround though because injections into the eye are a highly delicate and professional procedure.
"If the NHS can't cope with the number of patients then they should be assessing the risk of each patient, and find an alternative place for their treatment. This can't wait, this is an urgent situation and people will lose their vision if they are not treated properly."