Could zebrafish speed up macular research?
Posted: Thursday 30 June 2022 at 13:13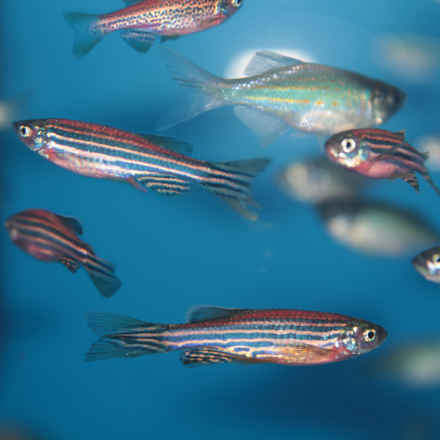 Scientists at the University of Sussex are looking into whether cells from the zebrafish eye can be manipulated to create a macula, which could be used in future research.
One of the main challenges for research into macular disease is that only primates and humans have a macula. In addition, donated human eye tissue is often hard to come by as it remains one of the organs people are least likely to donate.
Zebrafish eyes have been extensively used in eye research as their eyes have a structure similar to that of the human macula. Thanks to funding from the Macular Society, Dr Takeshi Yoshimatsu and his team in the School of Life Sciences will examine how the eyes of zebrafish develop, and compare that to data we already have about the development of the human macula. If successful, experiments with zebrafish could speed up the progress of macular research.
The project is one of a handful funded by the Macular Society in 2022, which provided small grants designed to fund the most innovative early-stage research, before considering funding bigger projects.
What other small grants have we awarded in 2022?
Transporter proteins in diabetic macular oedema (DMO)
The University of Oxford is examining how a protein called ABCC5, which is responsible for transporting other molecules, is linked to DMO and if ABCC5 is found in different levels in diabetic and non-diabetic people.
Researchers will then look at how ABCC5 in the retina transports three particular substances: glutathione (an antioxidant), cGMP (a small molecule which helps prevent blood vessels leaking) and iron (a potentially damaging free radical).
Finally, the project will investigate the relative levels of ABCC5 in humans with and without DMO.
Daily light cycles and diabetic retinopathy (DR)
This project will look at how diabetic retinopathy develops when daylight hours are changed, with the hope its outcome could lead to treatments for other forms of macular disease.  
The study at Queen's University in Belfast involves mice, which will be exposed to 22-and-a-half-hour or 27-hour day/night cycles, and compared to a control group on a 24-hour cycle.
The circadian rhythm - the internal body clock that tells us when it's time to wake or sleep - also controls how treatments such as anti-VEGF and corticosteroids are absorbed by the body.
Dr Eleni Beli of the university's Wellcome-Wolfson Institute of Experimental Medicine, said: "This study on how the retina's clock adjusts to new light schedules will be invaluable, not only to DR studies, but also to teams making more effective treatments for other macular conditions."
Each of the three projects above were awarded £25k funding as part of our 'seedcorn' grants programme. These small grant projects have been made available thanks to the generosity of our members and donors, so thank you for supporting these researchers, and so many others, as they work towards a world without macular disease.
Find out more at macularsociety.org/research