Creating a wet AMD drug using flower compounds
Posted: Monday 20 June 2022 at 07:53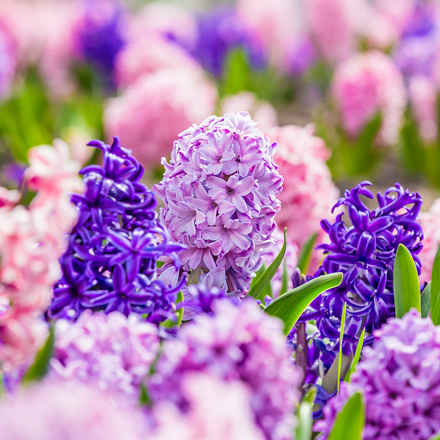 Scientists working to unleash the power of the well-renowned hyacinth plant have revealed more about their work to beat macular disease.

Researchers at the University of Surrey are looking at whether a group of compounds called 'homoisoflavanoids', found in rare hyacinth plants, may be able to stop blood vessel growth in the macula.
Professor Dulcie Mulholland, who is leading the research which has been funded by the Macular Society, said her team is looking to create a library of homoisoflavanoids to test which are the safest and best at stopping blood vessels growing.
The research will allow researchers to understand more about how this compound works and hopefully create a new drug for wet age-related macular degeneration (AMD).
According to professor Mulholland she said this would make it cheaper, more accessible and less invasive compared to eye injections. And, as the compound works through a different mechanism to anti-VEGFs, this would benefit those that do not respond well to the existing drugs.
Professor Mulholland said: "The current drugs we have for those with wet AMD are expensive, require injections into the eye and do not work for all patients. We therefore need a wider variety of drugs to offer those with wet AMD. "
This research could lead to a new type of drug for wet AMD that may be able to be given as an eye drop or tablet.
"The numbers of people who have AMD are quite astronomical," professor Mullholland said. "If we can use our little molecules to help, and especially to produce a treatment as eyedrops, it will be absolutely wonderful. So the motivation is to really get something on to the market to help people with the condition."
Find out more about the project and the healing power of plants in our Q&A with Professor Mulholland.