Calls for Scottish politicians to take action to improve eye care services
Posted: Wednesday 08 June 2022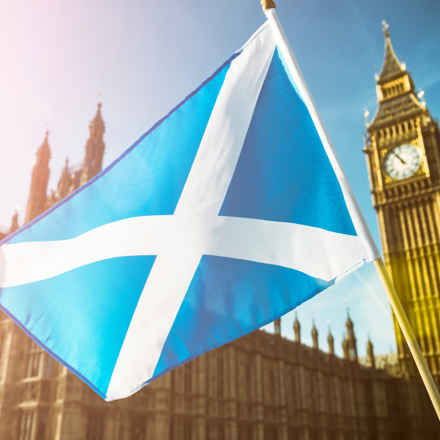 Parliamentarians from across the political spectrum in Scotland have been called upon to take action to improve eye care services for patients with deteriorating eye conditions in the country.
As thousands of patients are waiting more than 16 weeks on NHS waiting lists for specialist ophthalmology treatment in Scotland, Members of the Scottish Parliament were invited to a reception at Holyrood to help them better understand the impact of living with sight loss.

The event was organised by the UK-wide coalition group The Eyes Have It partnership (TEHI) in partnership with Sight Scotland. It followed a similar event hosted in Westminster in October and aimed to call on parliamentarians to do more to improve access and services for patients.
TEHI is a partnership of Roche, the Macular Society, Fight for Sight, the Association of Optometrists and the Royal College of Ophthalomologists and is committed to raising awareness of sight loss and improving care for people with deteriorating eye conditions

Stuart McMillan MSP, Convenor of the Cross-Party Group in the Scottish Parliament on Visual Impairment, sponsored the event and spoke about the role of the group and the post pandemic opportunity to improve eye care services.

He said: "Sight loss can have a devastating effect on a person's quality of life and emotional well-being. The implementation of free primary care eye examinations by the Scottish Government in 2006 helped to reduce pressures on secondary care but the Covid-19 pandemic has created new challenges meaning there is still more to do to improve patient access and expand capacity."
Carol Brown, the leader of the Edinburgh and South East Scotland working age support group, who has AMD, attended the event to share her lived experience. She said: "It was a great opportunity to speak to some of the key partners in this initiative and to give service users a voice in support of this call for action.
"Those of us with lived experience of sight loss use the existing services regularly. We are well aware of just how important accurate early diagnosis is and how we sometimes have to struggle to get our sight-saving treatments on time.
"Better access to services, improved awareness and timely treatment can make such a positive difference to our lives and I hope I managed to get that message across to the MSPs I spoke to on the night."
The event saw a wide range of engaging conversations about the future of eye health in Scotland with MSPs, senior clinicians and representatives from the Scottish Government, patient organisations and professional bodies.