'Get technically savvy' – top advice from people living with macular disease
Posted: Thursday 03 March 2022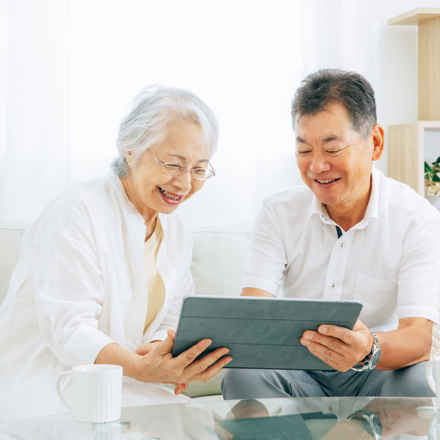 Three people who have been living with macular disease for more than 10 years have shared their top pieces of advice for others receiving a diagnosis.

The tips were shared as part of the Macular Society's Macular and Me monthly webinars, which bring people closer to the experts in macular disease.
Each month brings a new topic and guest, often welcoming ophthalmologists and researchers to discuss the latest developments in treatments and research.
Last month's webinar was led by three experts in living with macular disease, who shared their experiences of diagnosis and how they came to terms with their condition.
As part of the event Mary, Bryan and Jayne all provided their top pieces of advice for the audience, which included getting familiar with technology.
Jayne, who was diagnosed with age-related macular degeneration (AMD), said: "Make some memories and get technically savvy. Get yourself sorted with a good computer and get to know how to use it."
She also highlighted the importance of not taking life too seriously: "Keeping your sense of humour is vital, because it can be very difficult."
Hear all the tips from Mary, Bryan and Jayne in this short video. Alternatively, catch up on the full 'Living with macular disease' webinar again here.
The Macular Society's Macular and Me webinars take place twice a month. The first which is held on third Tuesday of every month event often focuses on issues for people living with AMD. The second event, which is held on the second Thursday and focuses more on rare types of macular disease, along with issues affecting people who are still working.
To find out more about next month's events and how to register, visit our webinars page.