Loveable mascot digs deep to raise vital funds for macular disease
Posted: Wednesday 30 March 2022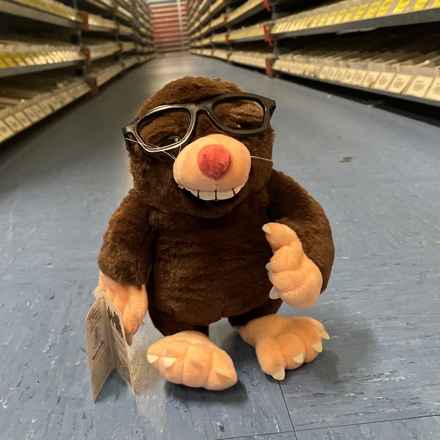 Vision Express has brought to life its loveable mascot Marvin the Mole in a bid to raise vital funds for people living with macular disease and children with eye cancer.

The high-street optician first introduced Marvin the Mole to their brand in 2021. After he received an overwhelming swell of support from colleagues and members of the public, the company decided to bring him to life, in the form of a soft toy.
Marvin will be for sale online and in Vision Express stores across the country from this week. As well as continuing to highlight the importance of regular sight tests, all proceeds from the sale of the soft toy will be donated to the organisation's charity partners - the Macular Society and The Childhood Eye Cancer Trust (CHECT).
Talking about the partnership, Will O'Connor, product development director at Vision Express, said: "We received so much positive feedback from our customers and our colleagues following the launch of Marvin in 2021 and it became really evident that Marvin has quite a fan base.
"We wanted to bring him to life in our stores in a way that would support the communities in which we operate. I am proud that the business has committed to donating all profits from the sale of Marvin to our charity partners and the sale of Marvin will help more people to experience the joy in vision."
Cathy Yelf, chief executive of the Macular Society, added: "We know how much people fear losing their vision. Yet, many people do not look after their eye health and do not attend regular eye tests. A visit to the opticians can help monitor your vision and detect any early signs of conditions, such as age-related macular degeneration (AMD), before any symptoms occur. And an early diagnosis can, in many cases, save your sight.
"Marvin the Mole is a fantastic initiative from Vision Express which will help raise vital funds to help beat macular disease, the leading cause of sight loss in the UK. Marvin and his family also do a brilliant job of reminding us how important it is to have regular eye tests to look after their eye health!"
To purchase your own Marvin, visit the Vision Express website or find your nearest store .
We'd also love to see Marvin in his new home, so please do share your pictures with us on social media or at stories@macularsociety.org