Mum takes macular disease fight into the boxing ring
Posted: Wednesday 23 March 2022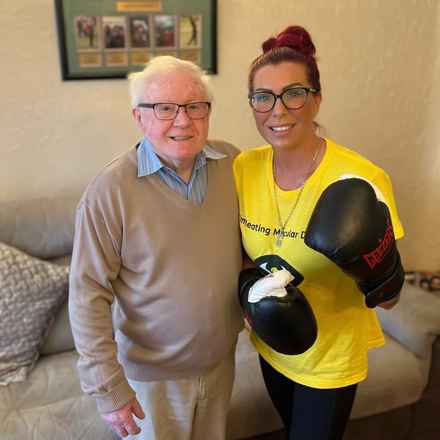 A mother of two spent 12 weeks transforming from her profession as an ice cream seller into a boxer, as she staged her own fight against macular disease.
Gemma, who runs her own local ice cream business, fought in a charity boxing match to show her support for her dad who has wet age-related macular degeneration (AMD).
Prior to this the 39-year-old had never set foot in a boxing ring, but had been training hard in the early hours of the morning in preparation for the challenge.
"If my dad can go through his sight loss and everything that comes with that then I can stand in a boxing ring and hold my own," she said before the event: "I'm doing this for all the people who benefit from the science and the research and to give back to the Macular Society which just puts its big arms around people.
"The Macular Society has made a huge difference to us. My dad will forever be grateful for the immense support he has received. Everyone has provided him with kindness and it's been lovely to see. He's always enjoyed going to his hospital appointments and without them he wouldn't be the same."
'The best experience'
Gemma narrowly lost out over three rounds but charity was the overall winner on the night, as she beat her target and raised £275.
Speaking after the fight she said: "I am so grateful people donated, to have some belief in me because it was such hard work! I'm so thankful that people, in these hard times, still found money to donate so I'm just very thankful to them.
"It was the best experience, I gave my all and I was back working in the ice cream van the next day! I took no hard blows, it was just my opponent came in more swinging than I did and I couldn't get much out in the end. I'm not gutted, we hugged after and it was a great fight.
"I jumped out the ring buzzing because I didn't feel defeated. I don't feel like I lost, I had tried my best and I couldn't have done any more. I was just pleased I didn't get hurt!"
Gemma ended up raising more than her £200 target but would she step back into the ring again? "Absolutely not! Maybe next time I wouldn't come off so lucky," she joked.
But Gemma added: "I beat my target and that's what it was all for. I loved every moment of it, my family were there and they were really proud. My dad said he didn't realise I had the strength, and neither did I."
The hereditary risk
Gemma knows all too well the risks of hereditary sight loss after her nan also lost her sight to what the family think was AMD. However, at the time, a lot less was known about the condition and it was put down to old age. Both Gemma's son and daughter wear glasses and she makes sure they all have regular eye tests.
"It clearly runs in the family," Gemma continued. "Me, my mum and my children wear glasses and now we have routine eye checks. My dad has undergone trials too whenever he's been asked, and he faces everything head on. He is forever grateful for the treatment he receives."
Gemma's dad Michael was diagnosed with AMD 20 years ago, after seeing an advert for a free eye test in his newspaper. He was quickly referred to Moorfields Eye Hospital and went on to be diagnosed with wet AMD. He still has his eyesight in his left eye at 81 years of age, thanks to his regular injections at London's Western Eye Hospital.
Although he can't see as well as he once could Gemma said he's grateful for the sight he still has.
Niagara Falls dream
She said: "My dad has always been an avid reader, he has a study at home and the one thing he didn't want to lose his sight for was reading. He's a temple of knowledge through reading. He's changed parts of his life like having voice text when he uses the iPad, he has a magnifying glass but he copes well. He says he can't see as well as he did 20 years ago but he is just so grateful that he can still see at all.
"The one thing he wants to do before he loses his eyesight is to see Niagara Falls and be able to say he has seen it with his own eyes."
Hopes for the future
Gemma has seen firsthand the impact of macular disease on her family and although there is no guarantee she or her children will be affected by sight loss in the future she knows it could be a possibility.
She said: "I just hope there is help for many more people to prolong their sight for as long as possible. Every person is extremely grateful to all the research and the advancements being made, we're learning more about it and we can't just let people go blind. Research offers hope and my dad believes he would have gone blind years ago if it wasn't for his injections. Imagine what it will be like in another ten years, or when I'm my dad's age. Imagine the technology when my kids get older."
Talking about his daughter's support for him, Michael said: "She's doing her bit and all these little bits add up to something really effective. The Macular Society is there and Gemma's doing her part to make a donation and that's terrific."
Have you been inspired to do your own challenge to raise money for the Macular Society? Visit our fundraising page or make a donation.