"We are seeing potential with this system we've not really seen before"
Posted: Thursday 24 March 2022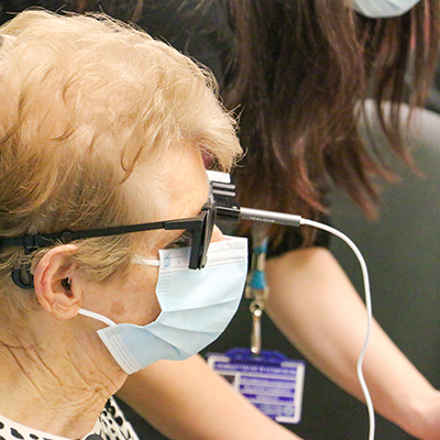 An eye surgeon who implanted a revolutionary chip into the first person in the UK has revealed more details about the device, which is hoping to restore vision in patients with dry age-related macular degeneration (AMD).
Earlier this year an 88-year-old underwent a successful procedure to insert a bionic visual aid behind her eye at Moorfields Eye Hospital, as part of a Europe-wide clinical trial.
Mahi Muqit, a consultant vitreoretinal surgeon who is leading the trial at London-based hospital, joined the Macular Society's My Macular and Me monthly webinar in March revealing further details on the device and the ongoing trial.
Talking at the event he said: "We are seeing potential with this system we've not really seen before."
Historically, Mahi said retinal implants haven't given patients significant or useful vision, which helps them in everyday life. But this device, known as the Prima system, has helped patients with advanced dry AMD read more letters on the eye chart, "so you can imagine the dramatic potential," he added.
As part of the trial a tiny microchip, which Mahi described as half of the thickness of a human hair, is inserted under the centre of a patient's retina, by surgically creating a trapdoor into which the chip is posted. The patient then uses special glasses, containing a video camera that is connected to a small computer attached to their waistband.
The device is intended to partially replace the visual function of the eye's photoreceptor cells, by electrically stimulating the nerve cells which transmit signals to the brain via the optic nerve.
Describing the system and how it works, Mahi said: "Once you put glasses on the whole system works simultaneously. The video camera is catching part of visual world which it passes down the camera to computer, which refines the signals, optimizes them and passes them to the glasses which is then passed onto microchip and passed down the optic nerve to the brain." 
While the system is currently only being trialed on patients with advanced dry AMD, Mahi said he believed the system could help patients with other dry forms of macular disease, such a Stargardt.
At the event he also highlighted how many drugs in clinical trials are aimed at slowing down vision loss, but that technology, which can be quicker and cheaper than drug development, could be the answer for restoring vision. 
"Some people just want to restore vision for quality of life purposes, so this is where this particular technology has value," he said. 
To hear more from Mahi and the Prima System, you can catch up on the event on YouTube. Read more about the device and how to get involved in the clinical trial in our Q&A.