New research could lead to a treatment for both wet and dry AMD
Posted: Tuesday 17 May 2022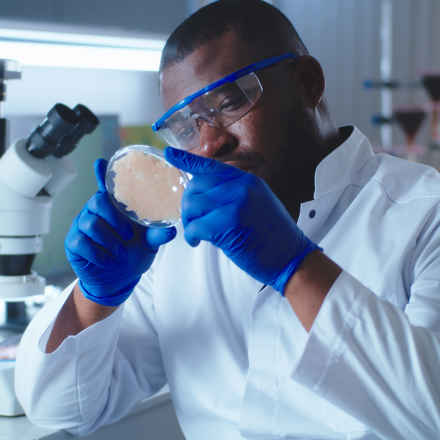 Scientists at The University of Manchester have identified those who are at risk of developing age-related macular degeneration (AMD), based on their genes, and discovered underlying changes in the tissue of these otherwise healthy individuals.

This groundbreaking work to understand the early stages of AMD has been funded by the Macular Society and used healthy human eye tissue donated post mortem to the Manchester Eye Tissue Repository.
Prof Richard Unwin, who worked in collaboration with Professor of Ophthalmology at The University of Manchester, Paul Bishop and Professor Simon Clark, said: "What is really exciting about this work is that we are studying tissue from people before they have signs of the disease.
"This gives us a look into the very earliest stages, and gives us hope that we can intervene to stop the disease developing and ultimately prevent loss of vision"
Scientists have long known that people with certain genes on chromosomes 1 and 10 have a higher risk of developing AMD, although lifestyle factors also play a role.
The Manchester team identified higher numbers of 'mast cells' in the eyes of people when either of the risk genes were present. Mast cells exist in most tissues and are one of the immune system's first defences against infection. They release enzymes which can damage structures underneath the retina, that in time may lead to damage to the macula itself.
We already know there are more mast cells in the blood vessels beneath the macula in people currently with AMD. However, this study identified higher levels in people before the disease develops.
Dr Unwin added: "We next need to look at how mast cells are activated, and whether by preventing, or clearing mast cell activation we can slow or stop disease development.
"A therapy designed to target mast cell activation as a unified mechanism could in theory treat all patients with AMD and prevent sight loss "
Commenting on the research Geraldine Hoad, the Macular Society's research manager, said: "This is an exciting development and we look forward to seeing further research in this area. We know lots of current treatments for wet AMD don't work for everyone and for those with dry AMD there is no treatment at all. Finding something that works for everyone would be an important piece of the puzzle and make a huge difference to the lives of those affected.
"While this particular study is in its early stages, it's great to see the benefit of our investment in the Manchester Eye Tissue Repository, which is proving a vital resource for lots of research in this area."
Professor Simon Clark, formerly of the University of Manchester who is now based at the University of Tübingen in Germany, will be joining us at our annual conference this year, to discuss this project in more detail, along with the complement system and its role in AMD.
Find out more about the virtual event Hope for the Future which is taking place on Saturday 10 September 2022.