Global seed sales help Beat Macular Disease
Posted: Wednesday 09 November 2022 at 00:00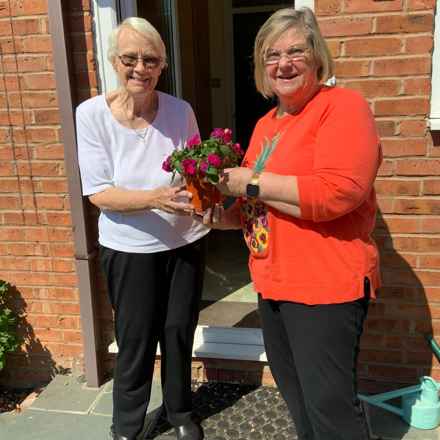 Global sales of high-quality garden seeds have helped raise more than £35,000 for the Macular Society, which will fund vital research and services for people with macular disease.
PanAmerican Seed, a world-leading producer of trademark disease-resistant Beacon Impatiens, pledged its support to the Macular Society earlier this year, in honour of it former facilities manager who has Stargardt disease.
Every year, the global company donates a percentage of its sales of its Beacon Impatiens to less-widely known charitable organisations.
This year's proceeds have been shared with Spectrios Institute for Low Vision (Wheaton, Illinois, USA).
Sarah Makiejus, marketing manager for PanAmerican Seed, said: "The proceeds from Beacon Impatiens sales continue to impact and shine the light on lesser-known charitable organisations, and it's great to see gardeners everywhere contribute to this annual donation.
"We are honoured to support two well-deserving organisations like Spectrios and The Macular Society as they build awareness and help those in need."
Members of the Macular Society's support groups across the UK were sent packets of seeds to plant in their own gardens. 
Jane Figg, a group leader in Bracknell, visited each member of her group to hand deliver the seeds. She said: "The members were delighted to receive the seeds and they produced some really beautiful and strong plants. They really did look lovely and it was a great splash of colour in what has been a gloomy few years."
Jane, who has dry age-related macular degeneration, added: "It's a wonderful amount of money. It means a lot that companies such as PanAmerican Seeds are supporting the Macular Society, especially if it goes to research because we'd love to see a cure."
Find out more about Beacon Impatiens.