"How I overcame my fear of needles after my diagnosis"
Posted: Saturday 01 October 2022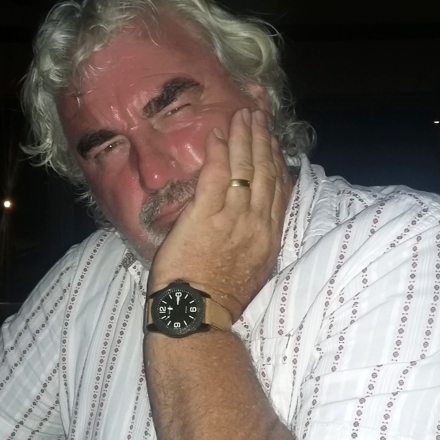 With a lifelong fear of needles, 72-year-old Dave was understandably anxious and scared when he was diagnosed with wet age-related macular degeneration (AMD) and told he needed regular injections in his eye. 
But, after one and a half years of treatment, the retired teacher wants to share his reassurances with others who may be concerned about the procedure. 
"If I think about the procedure now, I find my toes curling under and I'm squirming at the idea of it," he said. "But actually having it done is easier than telling the story to friends."
He added: "Obviously, all my friends when you tell them about the injections say 'what? Needles in the eye? You've got to be kidding'. I cringe at the idea that I could allow somebody to do that. But, I do and it's not as bad as it sounds."
Before retiring, Dave was head of technology at a school in Wales and worked with dangerous machinery. He has also spent the last 40 years driving rally cars in his spare time and was involved in navigating the rally cars, which required detailed map reading.
He said: "I was an ardent needle hater when I was younger and into my adult life.
"In spite of the dangerous workshop machinery and hand tools I have used as a teacher in a comprehensive school, I have been lucky. I always took precautions when using machinery, but I am certainly a calculated risk taker navigating in rally cars. But, I have avoided hospitals and needles."
When he found out what the treatment was for his condition, he said he was fearful but he put his faith in the staff and has nothing but praise for the care they give. 
He said: "When I was told about the needle situation, I knew somebody who had a lot of hospital treatment with cancer. I thought if he can do that, I can have a few needles in the eye. So that's the way I looked upon it."
 "l was amazed at the professionalism of the teams and those that administered the needle. No pain, no discomfort, sometimes a bit a grittiness in the eye but that`s all.
"I am very happy to have them.  I thank all the staff each time I go, they do a stunning job and I tell them that. It has certainly stabilised my condition and I also see improvements."
Adding his advice to others diagnosed with wet AMD who are worried about receiving injections, he said: "I would say, don't be put off it at all. It's a daunting experience first time, but it's just a moment and no there's no pain. Everybody is so gentle. Obviously, the needles are finer than they've ever been and it's just like somebody touching your skin for a moment and it's done."
If you have been diagnosed with AMD and you are worried about having injections, contact the Advice and Information Service on 0300 3030 111 or email help@macularsociety.org