Gene therapy trial tests injection lasting three years
Posted: Friday 23 September 2022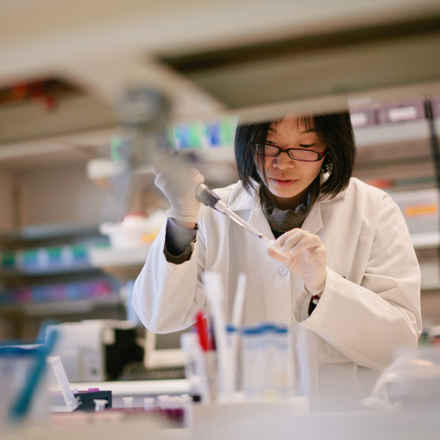 A new clinical trial is underway to test a gene therapy which could treat wet age-related macular degeneration (AMD), with an eye injection lasting up to three years.
Scientists in the US have injected the first patient with the treatment called Ixo-vec (ixoberogene soroparvovec), which is designed to be administered as a one-time intravitreal injection.
Results from drug company Adverum's phase one OPTIC clinical trial showed some people could go three years without the need for further injections. This was because Ixo-vec enabled the cells of the macula to make the drug aflibercept themselves, through providing the genetic code for making the drug.
This form of treatment is new and uses genes to treat diseases. A harmless virus is injected into the macula, carrying a gene into the cells. The gene provides the code for making a drug, such as Lucentis (Ranibizumab)  or Eylea (aflibercept). This enables the creation of a 'drug factory', as the eye can use the gene to make the drug itself, taking away the need for regular injections.
Principal investigator in the study, Sean Adrean said: "I am excited at the potential of Ixo-vec to meaningfully reduce the treatment burden of frequent anti-VEGF injections for wet AMD patients.
"I'm intrigued by the efficacy profile seen in the OPTIC trial, where a single intravitreal injection of Ixo-vec demonstrated three years of stable aflibercept expression to date, as well as maintenance of vision and improved anatomical outcomes.
"I look forward to studying the potential of Ixo-vec to offer a safe and efficacious, and potentially transformational, intravitreal treatment option for my patients with wet AMD."
In June the drug received PRIME designation from the European Medicines Agency (EMA), a scheme launched to support the development of medicines that target an unmet medical need. The aim of the scheme was to help patients benefit from new drugs which could significantly improve their quality of life as early as possible. 
Interim results from the LUNA trial are expected throughout 2023.