Inspiring talks give hope for the future
Posted: Tuesday 27 September 2022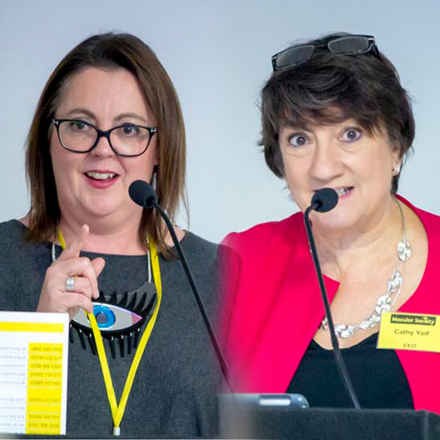 Highlights from our annual conference are now available to watch online, with inspiring talks from world-renowned experts in macular disease.
The Macular Society's Hope for the Future conference shone the light on subjects such as artificial intelligence, stem cell therapy and new treatments.
Following the event Cathy Yelf, our chief executive, said: "There is plenty to keep our hopes for the future strong indeed."
She added: "It was an honour to welcome so many experts to our conference, which again proved a wonderful opportunity for us all to find out about the incredible work taking place in the hope to find new treatments and ultimately Beat Macular Disease.
"The feedback we have received from members and supporters has been delightful to hear and we thank everyone who joined us to help make the 2022 conference such a success.
Among the speakers was Professor Pete Coffey from Institute of Ophthalmology at University College London. He reported on worldwide stem cell studies, which involved attempts to maintain or improve vision in patients with age-related macular degeneration (AMD), using embryonic-derived RPE cells.
Consultant Ophthalmologist Nigel Davies from Guys' and St Thomas' NHS Foundation Trust also spoke about current treatments for wet AMD, as well as recent advancements such as the Port Delivery System and Roche's new drug Faricimab (Vabysmo), as well as the introduction of biosimilars.
All talks from the conference are now available for you watch online.