Treatment delays – "It's vitally important to speak out"
Posted: Wednesday 05 April 2023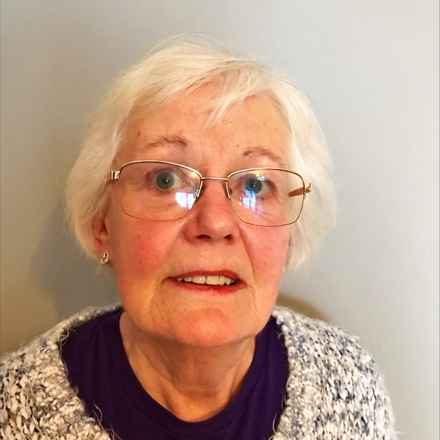 Stories of delays to vital treatment for age-related macular degeneration (AMD) have been hitting the headlines over the last few weeks.
While the news is concerning for many people affected, Pam, who was diagnosed with wet AMD in 2021, has shared why she has spoken out about her own experiences to the national press and why she would encourage others to do the same.
Pam, 74, who lives in Pembrokeshire, was diagnosed with dry AMD a number of years ago, losing a lot of sight in her right eye. But, it wasn't until the summer two years ago she noticed a sudden deterioration in her left eye too.
She said: "I was told I needed the injections every six weeks to keep it at bay."
But Pam soon found she was waiting eight weeks between appointments and last summer went 12 weeks without an injection, after her local hospital told her they didn't have the capacity to treat her.
She said: "The sight in my left eye has definitely deteriorated in the past 15 months. Now I struggle to put the toothpaste on my toothbrush; straight lines are no longer straight; and if I'm looking at someone's face I can't see their features anymore."
Pam added: "I can't see to watch television, or read books and when I do my hair I have to rely on shape and feel or my partner to tell me when I have made a hash of it.
"This just makes me so angry. Eye disease and blindness don't get the attention they merit because they're not life-threatening."
Pam shared her story publicly last week and was featured in national newspapers, including the Daily Mail and The Telegraph. 
Talking about why she was motivated to share her experiences, she said: "Sight can't wait, it's critical. The clue is in the name it's age-related macular degeneration, we know younger people can have macular problems but the majority of us with this particular form are of a certain age. Now, you're getting to a point where you're slowing down. You might have lost your mobility or have less mobility so, what have you got? You're using your eyes to watch television, to read, to do crosswords, to do craft things, embroidery, but if your sight goes, you lose all of those things.
"So I believe it's vitally important to speak out. To get this put front and centre. It's not just a case of us losing our sight, it's what it does to us emotionally as well as physically. I'm  shouting about myself, obviously. But I also want to talk about all the people who are frightened to speak out."
Pam highlighted how many people are frightened to speak out and fear it will stop them from getting an appointment at all.
But, after Pam's story went public, she received the appointment she'd been waiting for.
She said: "I want them to get it right for all the people who are standing behind me. and to prove that you can speak out, and they don't punish you."
Pam doesn't deny the energy it takes to speak out, but highlights that if it means she, and others like her, get the treatment they need, then it is worth it.
She added: "I know when I'm trying to chase up these appointments, I get very, very stressed. Very, very anxious. Sometimes I get tired and I query have I got the energy to do it? But I know the value of what speaking out has done. So however tired it might have made me and the fact that I was on a rollercoaster being on a real high at the beginning of the week, and then the weekend being flat on the floor, It's still worth it."
If you are experiencing delays to treatment and need support, the Macular Society's advocacy service is here for you. Contact the team on 0300 3030 111.
In the meantime, if, like Pam, you'd like to speak out about your experiences with delays, email us at stories@macularsociety.org.