Warhammer fundraiser to raise awareness of macular disease
Posted: Friday 14 April 2023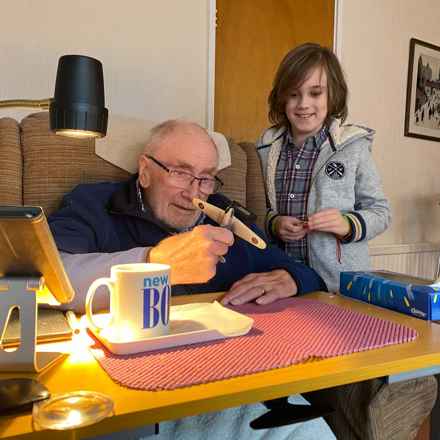 A twelve-year-old Warhammer fanatic is organising a fundraising tournament in memory of his beloved late grandad, to raise awareness of macular disease and support others with the condition, after seeing the impact it had on his life.    
Harry, who had a special bond with his grandad Norman, will host a Warhammer tournament - a tabletop miniature army game – in his hometown of Colchester this month and hopes to raise more than £1,600 for the Macular Society.
The youngster will be bringing close to 20 of his friends together for a day of battles to help Beat Macular Disease and remember his much-missed grandad.
"I'm looking forward to it a lot," said Harry. "It's going to be a lot of fun with a lot of people. The tournament will raise money so we can help other people when they need it for their eyes and help them carry on doing the things that they love. It's also about raising awareness so more people know about macular disease."
Norman, who worked in the printing trade, lived with age-related macular degeneration (AMD) for 10 years. Although he passed away in 2021 from cancer, his son Nick said watching him lose his sight loss was the hardest thing.
Nick said: "My brothers and I talked about it and what affected dad the most was losing his sight. He got some great support from the Macular Society in how to deal with his condition. Death gets everybody, but blindness doesn't so that's why we decided to raise money for the Society. It was such a cruel cut, especially for someone like my dad, so we really want to raise awareness of the Macular Society and what macular degeneration is and what it does to people."
The family welcomed donations to the Society at Norman's funeral but the Warhammer tournament this year was all Harry's idea.
Nick, 49, said: "Harry misses him a lot, and we often talk about him, and Harry wishes he could talk to him and tell him about all the amazing things that he does.
"We've had a lot of fun organising it and people are really looking forward to it. Harry's awesome, he's done so well. Dad would have loved to see it and I'm sure he'd be proud of him."
Local sponsors have come on board to provide prizes and there will be a glass trophy courtesy of Games Workshop for the event at 4TK Gaming.
Nick added: "The big impact was when dad couldn't drive anymore. At the moment he realised he wasn't safe to be behind the wheel it shrunk my parents' world massively. "Knowing they were upset by it, that was pretty hard to see. He was known for always being out on his bike as well. Even badly sighted he wanted to go to the park to try and keep that independence.
"I remember my mum saying 'take him up to the chemist for his prescriptions because if you don't, he'll get on his bike'. He was always so determined. We'd drive back and he'd tell me he was going to wait for mum to fall asleep and then take his bike over the park anyway! It was funny, but of course he knew he would go to parts where he wouldn't run the risk of hitting people.
"He always had a pile of books on the side table with tonnes of bookmarks and notes. He had his Kindle and he had an app to save a record of books he'd read. He just loved reading, he used to write book reviews but as he got older it all became a lot harder for him.
"In the end he knew when he had to stop. People get old and you start to wind down in your life but with his sight saying 'you can't do this anymore', that was heartbreaking."
The family are keen to help raise money, not only for research, but to help provide emotional support to people with a sight loss condition, having seen firsthand the impact of macular disease.
Nick said: "I'd like to think that somebody can find a cure for dry AMD. One would hope that there is some sort of solution which can be brought forward.. Any money we raise I hope can either help people cope mentally with their sight loss, but also help to support research as well."
The family are raising money for the Warhammer event on Justgiving.
Have you been inspired to fundraise for the Macular Society? From taking part in a major sporting event to organising your own event, you can help Beat Macular Disease. Our community fundraising team is here to support you all the way - email community@macularsociety.org or phone 01264 560 222.