Ann, 99, completes milestone walking marathon challenge
Posted: Thursday 24 August 2023 at 00:00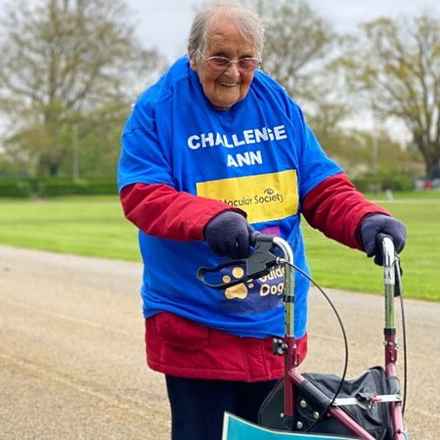 While we have seen our fair share of rain over the last few months, nothing could stand in the way of 99-year-old Ann who has completed her mammoth, walking marathon challenge.
Over the course of four months, Ann has completed a series of walks around her local running track, to raise funds and awareness for two charities close to her heart, the Macular Society and Guide Dogs.
No matter the weather, with more than 100 laps of the track completed, Ann reached the 26.2 mile finish line, as she closes in on her 100th birthday.
Ann, who has dry age-related macular degeneration (AMD), took on the challenge to mark her milestone year. She said: "I'm glad I finished it all, so I'm calm and collected at this moment, but I've been so very lucky that so many people have supported me.
"I've enjoyed most of it, of course some days have been wet and windy, but we got there."
In those challenging moments, Ann said it was the poem 'Somebody Said It Couldn't Be Done' by Edgar Albert Guest, read by her daughter Margaret, which helped spur her on. "That helped to carry me on, so I've quoted lines here and there."
But it was also the support of others, including those in the local community, which gave Ann such a boost.
She said: "I've also had a little group of nursery children who came to the gate and wished me luck. That's given me quite a thrill that they have been told what I have done and why I've done it. They waved and clapped hands and that's been great.
"Everyone at the care home has always wished me good luck. I've been so very lucky that so many people have supported me. My carers have supported me, they've been excellent through rain or shine. It's been fun as well as doing something for good causes, which is what I've enjoyed about it most of all."
Ann's walks were documented on social media, thanks to support from her care home, Poplar, in Middlesex. was Ann was diagnosed with AMD 30 years ago but she has shown the world what people can do later in life, despite living with a visual impairment.
Margaret reflected on her mum's achievement and the "amazing" experience.
She said: "I can't put it into words just how proud I am of her. She has been so determined not to give up and she is hopeful more than anything that this gives hope to people who have been told they are losing their sight. We know how that feels and while it is not life- threatening, it is life changing.
"I've been incredibly surprised by the number of people who don't know us, who have contributed to the cause. It's been overwhelming, people in our local community have been so supportive. It's been incredible, and even children have donated their pocket money."
At the time of writing, Ann's fantastic efforts had raised more than £6,000 to be split between the Macular Society and Guide Dogs.
Macular Society community and events fundraising manager, Susie McCallum, said: "A huge thank you must go to Ann, whose achievements have been incredible. Every step has helped to raise important awareness of macular disease and you can always surprise yourself by what you can do with sight loss.
"It's been heart-warming to follow Ann's journey and see her enthusiasm and passion every time she stepped onto the track. Now I'm sure she is looking forward to putting her feet up for a well-earned rest!"
Donations to support Ann can be made online via her JustGiving page.
Have you been inspired to fundraise for the Macular Society?
From taking part in a major sporting event to organising your own event, you can help Beat Macular Disease. Our community fundraising team is here to support you all the way - email community@macularsociety.org or phone 01264 560 222.