Thrill seeker skydives from 14,000ft to Beat Macular Disease
Posted: Friday 18 August 2023 at 00:00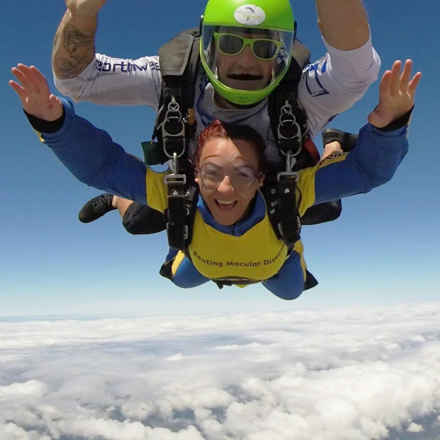 Thrill-seeker Jade can tick off a 14,000ft skydive from her adrenaline-fuelled bucket list after she fearlessly threw herself out of a plane, to beat macular disease.
Jade, who has diabetic maculopathy, turns 30 in November and decided to take on the jump after compiling a list of 30 daring challenges to complete this year.
"It was amazing – one of the best things I have ever done," she said. "I'd highly recommend anyone to do it. I'd love to do it again, though it would become an expensive hobby."
She added: "I was nervous and scared, but in a good way. I'm a bit of an adrenaline junkie though. I've been paragliding and I have a swim with sharks in Hawaii coming up, although this is probably the craziest thing I've done. I will turn 30 in November and it was just one of the 30 things I wanted to do."
Jade is also a retinal admin clerk at Blackburn Hospital, where she helps book in macular disease patients' appointments. So, between the job and her own condition, she is well aware of life with macular disease.
She said: "Skydiving was something I have always wanted to do but because of my condition, working in the eye clinic and knowing patients affected by these conditions. I thought I may as well do it for a charity that really means a lot."
Jade was diagnosed in 2017 and started receiving injections in 2019. She is thankful the treatment has helped stabilise her condition.
She said: "I knew diabetes could affect my eyes but it was still a shock when I got told because you always think these things won't end up happening to you.  Things were wavy and it got worse. Now that it's stable, my vision isn't perfect but lines are almost straight, compared to how they used to be. I know it will get worse with pregnancy – and I do want kids one day - and with age, so it is a worry. I just hope it doesn't affect my right eye in the future.
Ahead of the challenge Jade had an OCT scan to ensure she was able to complete the skydive with her partner.
She added: "Losing your vision is one of the worst things you can experience but I had my check-ups to make sure it was all safe. Of course there are risks in all walks of life, so you can't let sight loss stop you from doing all the things you want.
"I highly recommend anyone to try it and not let your condition, within reason, from stopping you."
Jade's jump above the skies of the Lake District has helped to raise close to £500 for the Macular Society. Donate to her online fundraiser.
Have you been inspired to fundraise for the Macular Society?
From taking part in a major sporting event to organising your own event, you can help Beat Macular Disease. Our community fundraising team is here to support you all the way - email community@macularsociety.org or phone 01264 560222.