First-ever AMD audit highlights importance of regular injections
Posted: Monday 27 February 2023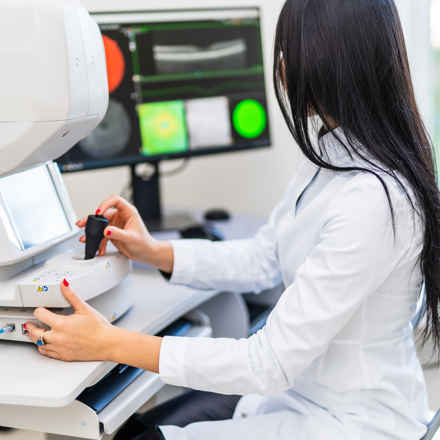 The UK's first-ever audit of hospital eye care services for patients with wet age-related macular degeneration (AMD) has confirmed that regular injections help to stabilise vision in most patients' eyes and early diagnosis and treatment are vital to maintaining good vision after treatment.
The initial findings from the National Ophthalmology Database (NOD) revealed more than 90% of eyes retained stable vision at the end of the first year of treatment, avoiding any further significant decrease in vision.
The audit, which received data from 75 centres in England, Northern Ireland, Scotland, Wales and Guernsey, also found almost 20% of eyes experienced a 'significant' improvement in vision and more than 40% had 'good' vision, considered close to driving standard, after the first year of treatment.
Analysis involved 20,452 eyes from 18,362 patients who started treatment in 2020/21.The audit aims to improve treatment and care for patients by regularly auditing NHS eye clinics by identifying best practice and allowing organisations to compare their performance with others. 
Martin McKibbin, clinical lead for the NOD AMD Audit, who spoke about the first report at February's My Macular and Me webinar, said: "I am delighted that the first report of the NOD AMD Audit has been published. Clinical staff at all the participating sites want to provide good clinical care and the best outcomes for their patients. The data in the audit will provide the first opportunity to benchmark care processes and acuity outcomes with peers and identify if any improvements are needed." 
The NOD AMD Audit will continue to work with NHS Trusts and independent sector treatment providers to participate and improve the data quality for future audits.
Funding has been provided from Bayer, Novartis, Roche and the Macular Society to enable the National Ophthalmology AMD Audit.
Martin added: "Without funding from the Macular Society this audit wouldn't have got going and I'm very grateful to all of the members of the Macular Society who helped us to choose some of the outcomes from the audit."
Read the Patient Summary Report 2023 or hear more from Martin McKibbin at our latest webinar.