"I noticed when new people joined, they would come with so much fear in their eyes"
Posted: Wednesday 01 February 2023 at 00:00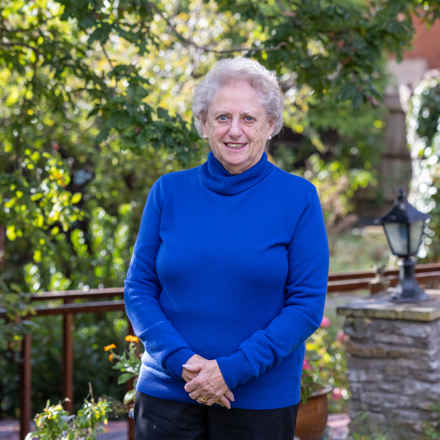 Vera became a Macular Society group leader a few years after her late husband Peter was diagnosed with age-related macular degeneration (AMD).
Sadly, Peter passed away in September 2021 but Vera said she had no hesitation in continuing to run the group saying she "owed that to him."
The 82-year-old, who managed a post office alongside Peter before their retirement, has run the Bristol meetings since 2018, even keeping it going over the telephone during the lockdowns in 2020.
After experiencing the difference the group made, she was keen to keep it going.
She said: "I noticed when new people joined, they would come with so much fear in their eyes. Whatever problems they have, I always say 'tell us' because there is bound to be someone here who has had your same problem and found a way around it.
"I get to meet people and help them, particularly people newly diagnosed who have all these fears running through their heads. I can give them reassurance and usually it's the tiny things, the nitty gritty of everyday living when you can't see as well as you once did.
"I've seen that myself having looked after Peter and I can help. I enjoy doing this because I have a great group of people. It's about meeting people and I'm not going to be this little old lady who stays at home on her own!"
Vera also highlights Charles Bonnet Syndrome to any new members, to make sure they are aware of the visual hallucinations which can occur as a result of sight loss.
"I would match them with a long-term member and I'd prime them to ask about Charles Bonnet Syndrome," she said. "Honestly, people come to us thinking they're losing their marbles because they've not heard of it or know it is linked to their eyes."
Vera said she has got so much out of volunteering over the years and has encouraged others to consider it too.
"I would say do it. You have to put a lot into it, because it's about more than just turning up for a group meeting, but you will get so much out of it. It's a new group of friends to be made but you'll meet people who need help and guidance."
We are incredibly thankful to people like Vera. Are you thinking about volunteering? You could make a difference to the lives of people with macular disease.
To find out more call us on 01264 326 622.