"There's a way around everything if you're determined"
Posted: Friday 17 February 2023 at 00:00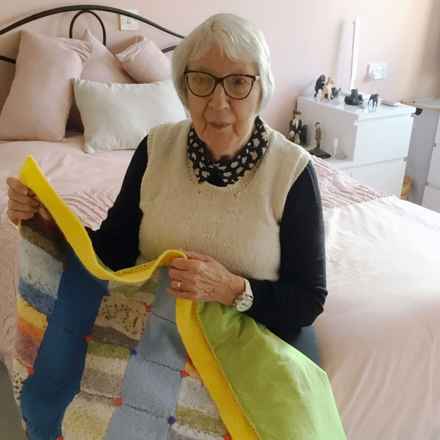 Keen knitter Audrey has described achieving her proudest piece of work, as she has proved there is no reason to let her sight loss stand in the way of her passion.
"I think I was born with knitting needles in my hands," said Audrey, who has crafted jumpers, coats and baby clothes for friends and families in her lifetime. However, she said a multi-patterned quilted blanket that took around a year to make had topped any of her previous achievements.
Audrey, who has age-related macular degeneration (AMD), admitted she thought the blanket was beyond her capabilities, due to her poor eyesight.
But, starting just after Christmas 2021, Audrey designed and knitted 72 squares (8x9), using various different colours of wool. "I've knitted some fantastic jumpers, but this blanket has exceeded all of that," she said. "I've got more from seeing the finished blanket than I have out of a complicated jumper. This is such a huge achievement for me and I didn't think I would have ever done something like this ever again."
Audrey's friend Veronica, who does not have macular disease and lives in the same retirement complex, helped to apply some of the finishing touches and provided the buttons to help bring the quilt to life in its final stages. After taking the quilt for a couple of months, Veronica then gave the finished masterpiece back to Audrey at Christmas, who admitted it was an emotional moment.
She said: "When I unwrapped it and saw that, I cried. I opened it at her house on Boxing Day and she had family there and they were amazed by it. I just thought 'my goodness, did I really do that?' But It wouldn't have looked like it did without my friend's help."
Audrey was diagnosed with wet AMD in 2010 but sadly injections to treat her condition were ineffective after she started them too late. She went on to develop dry AMD in her other eye and said in the last year her eyes have deteriorated further.
She said: "I didn't think I could do it. Once I did about 10 squares, I thought 'well I could do 10 more', then another 10 and it went from there. But I didn't think I would even be able to follow a pattern again."
Audrey, 80 added: "I'm at the end stage in both of my eyes and in the last year my eyes have got worse and I've struggled with my knitting. That was a blow."
However, she said her determined personality and support from her husband has played a huge part.
"It's such an achievement because I just remember the day I was diagnosed, and hearing the negative comments and I thought, 'no, my eyes will never get to that'. But, there's a way around everything if you're determined and have a lot of encouragement. Without it, I wouldn't have achieved anything, not without the support from my husband, Doug.
"The blanket just looks so nice to see on the bed every day and some of my neighbours have been over and they can't believe it. They know how much I struggle but I don't ever give up and now, I'm trying to knit myself a tank top."
In the years Audrey has lived with sight loss, she's developed a few different ways of adapting. Sharing her tips, she said: "I have bought coloured knitting needles because I can't cope with dark colours.
"If I had a bad day with it, I'd go back to it the next day. I've never beaten myself up when I couldn't do something, it was about trying again tomorrow. You do need lots of light too, and I lamps both sides of me, so with that you can get on."
She added: "I'd like to think there are others out there who think 'if she can do it, then I can do it too."